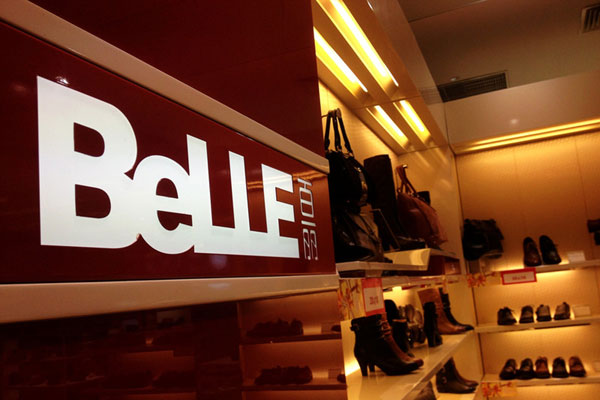 A Belle store in Suzhou, East China's Jiangsu province. [Photo/IC]
China's top shoe retailer Belle International Holdings Ltd said it expects sluggish growth in the world's second-largest economy to weigh on its earnings for the next two years after profit edged up just 1 percent in its latest fiscal year.
"The macroeconomic outlook for the next two years is not optimistic," chief executive officer Sheng Baijiao said in a filing to the Hong Kong bourse late on Monday. "The consumer retail market is expected to be under continued pressure due to weak consumer sentiment."
The slowing economy, fierce competition both in bricks and mortar stores and in e-commerce, and rising labour costs are all weighing on retailers in China. Some are locked in price wars that are taking a toll on profit margins.
In its filing, China's biggest footwear retailer by market value said net profit rose 1 percent to 5.16 billion yuan ($827 million) for the 14 months ended February, compared with 5.11 billion yuan in a comparable 14-month period ended February 2013.
Belle, which distributes sportswear for the likes of Nike, Adidas, PUMA and Converse, changed its financial year-end date to the end of February from December earlier this year. For the 14 months revenue at Belle, with a network of nearly 20,000 stores in total, rose 10 percent to 43.06 billion yuan, up from 39.13 billion yuan in the 14 months ended February 2013.
Nike and Adidas account for about 90 percent of the sales of Belle's sportswear and apparel business. Sportswear business accounted for about 39 percent of the total revenue.