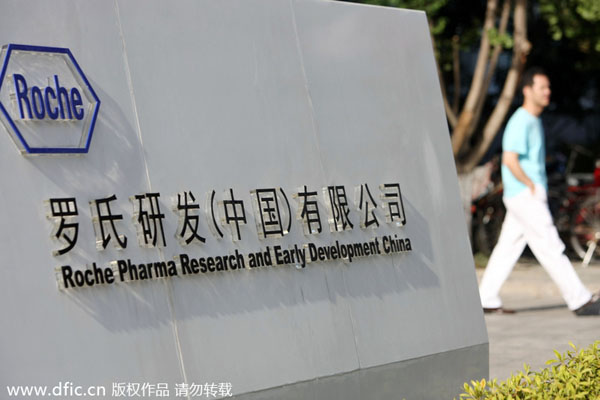 A man walks out of Roche Pharma Research and Early Development China at Zhangjiang Biological Medicine Industry Incubator in Shanghai, China, September 2, 2013. [Photo/IC]
Swiss pharmaceutical company Roche AG China's Hangzhou office is said to have been sealed off by the local administration, according to news portal Netease.com.
Meanwhile, the company's Beijing office is reportedly under investigation, according to the Chinese website.
"More than 20 officials rushed into the Hangzhou office, shut down the door, and asked employees not to leave," the news portal quoted a Sina Weibo user on Wednesday.
China Daily tried to contact one staff member at the company, but he refused to answer the phone.
The reported sealing off of Roche's office comes after an executive with British drug maker GlaxoSmithKline was charged last week for allegedly bribing doctors and hospitals to use the company's drugs.
Roche, the world's largest manufacturer of cancer drugs, has said it has seen continued strong growth in China in recent years.
Stockpiles of Roche Tamiflu drug are waste of money
Roche boosted by strong drug sales in US and China
GSK case sounds alarm for foreign firms
China accuses former GSK head of bribing doctors