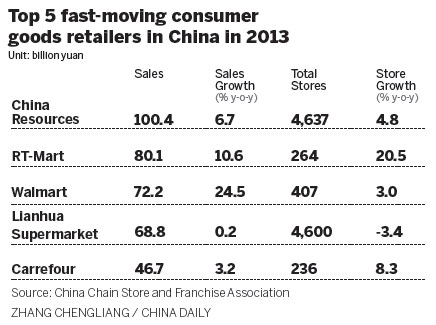 Company plans to open several Sam's Clubs, 28 more supercenters in China
The world's largest retailer by sales, Wal-Mart Stores Inc, will open approximately 30 retail stores and additional distribution centers in China this year after shuttering several underperforming stores.
The new stores will comprise 28 supercenters and two Sam's Clubs. Supercenters will continue to open in first- and second-tier cities, such as Shanghai, Changchun of Jilin province and Wuhan of Hubei province, but also in lower-tier cities, including Fuyang of Zhejiang province and Xingtai of Hebei.
The strategy will allow the company to better serve emerging groups of customers created by the country's ongoing
urbanization
, according to Walmart.
Its two new Sam's Clubs - Walmart's high-end membership format - are in Wuhan, Hubei province, and Changzhou in Jiangsu province. In fiscal 2014, which ended on Jan 31, 12 new warehouse stores opened, with net sales increasing 1.3 percent to $57.2 billion.
Sean Clarke, Walmart China's incoming president and CEO, said that Sam's outlook is promising, and since this business model is especially relevant to burgeoning middle-income and upper-income consumers, and many Chinese cities are well-suited for this format, the growth of the Sam's Clubs in Walmart China's portfolio should remain strong for years to come.
Clarke said this year that Walmart will focus on long-term investment and steady, quality growth.
"To do this, we are optimizing our operations in China, investing in more stores and distribution centers, enhancing operational efficiency to lower our costs, improving price leadership while ensuring product safety and quality, and helping our customers save money so they can live better," he said.
Last October, Walmart announced plans to accelerate development in China by opening up to 110 new facilities between 2014 and 2016, including stores and distribution centers.