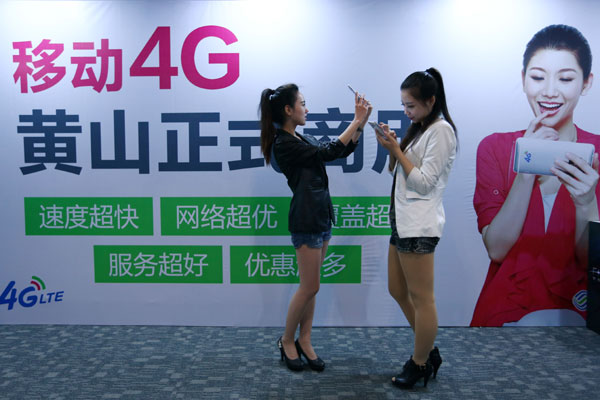 Residents in Huangshan, Anhui province, test the 4G high-speed networking service provided by China Mobile Ltd. The company is lowering the price of its 4G service by roughly 40 percent, the first company to respond to the government's decision to grant telecom operators full pricing autonomy. Provided to China Daily
Company first carrier to respond to govt deregulation of telecom rates
China Mobile Ltd said on Wednesday it is lowering the price of its fourth-generation telecommunications service by roughly 40 percent. The announcement was the first response given to the government's decision announced last week to grant telecom operators full pricing autonomy.
The country's largest carrier by subscriber number hopes the discounted prices will bring new customers ahead of a competitive free-for-all in the 4G market.
China Mobile's new entry-level monthly data package will be 30 yuan for 500 megabytes, compared with 40 yuan for 400 megabytes under the current price plan.
Higher-end 4G services charges also will be cut by up to half, the company said, adding that unused gigabytes will be able to be transferred to other subscribers.
"The government-set prices were too high and hindered user growth," said Lu Wenchang, deputy general manager of China Mobile's marketing department.
The company will focus on lifting the 4G adoption rate among lower-end users, the biggest mobile population in China, Lu said.
China Mobile also plans to introduce more contracted 4G smartphones priced at about 1,000 yuan to expand its user numbers.
The Hong Kong-listed carrier declined to predict 4G user growth, saying it is "working hard" to meet the 100 million 4G-device sales goal set by Chairman Xi Guohua.
China Mobile's 4G network currently serves more than 4 million customers in about 200 Chinese cities.
It has nearly 260,000 base stations, with that number set to hit a half-million by the end of this year.
Starting this week, all the telecom companies will be able to set service prices on their own.
"The market should decide the prices for all telecom services," said a joint statement released by the Ministry of Industry and Information Technology and the National Development and Reform Commission.