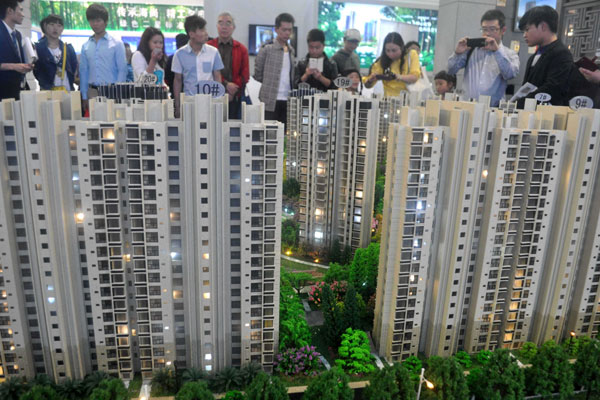 Shanghai residents ponder models of new housing projects. China's property investment growth in the first quarter slowed to 16.8 percent year-on-year from 19.9 percent in the fourth quarter last year. Yan Daming / For China Daily
Analysts pare forecasts amid downturn in housing sector
Foreign investment banks are trimming forecasts for China's GDP growth this year and next, in part because of unexpected weakness in the property market, although most analysts said the risks remain manageable.
UBS AG on Monday lowered its 2014 and 2015 forecasts to 7.3 percent (from 7.5 percent) and 6.8 percent (from 7 percent).
Wang Tao, chief China economist, said the changes reflect softness in the property sector. "But we believe the government still has the means and willingness to mitigate a property downturn, including by increasing infrastructure investment and relaxing property policies. As such, our base case forecast is for the property downturn to remain manageable," said Wang.
Without policy stimulis, according to Nomura Securities Co Ltd, declining real estate investment could drag GDP growth down to 6.7 percent for 2014 and 5.8 percent for 2015.
"Our baseline remains that the government will have to loosen fiscal, monetary and property sector policies significantly to achieve our forecast for 7.4 percent GDP growth in 2014," said Zhang Zhiwei, an economist at Nomura Securities.
"We expect growth to slow to 6.8 percent in 2015 as policy easing will likely exacerbate the oversupply problem in the long run," he added.
Property investment growth in the first quarter slowed to 16.8 percent year-on-year from 19.9 percent in the fourth quarter, according to Nomura. "We expect property investment growth to trend down throughout 2014," said Zhang.
Most economists agreed that a persistent and sharper downturn in the property sector is the biggest risk for China's economy in the next couple of years.
"It can be said that China's property bubbles are now the biggest risk in its economy, but a collapse is not likely, considering the ongoing urbanization process," said Jia Kang, director of the Research Institute for Fiscal Science at the Ministry of Finance.