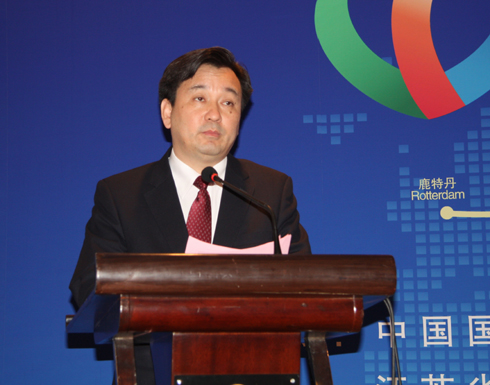 Cao Yonglin, vice mayor of Lianyungang city, introduces the China (Lianyungang) Silk Road International Logistics Expo in Beijing on April 16, 2014. The expo will be held from Oct 21 to Oct 24.[Photo/www.ce.cn]
An international logistics expo will be held in Lianyungang city in East China's Jiangsu province to boost trade and investment along the Silk Road economic belt and the 21st-century maritime Silk Road, said Vice Mayor Cao Yonglin.
Chinese President Xi Jinping proposed the concept of a "Silk Road economic belt" based on the ancient land-based trade route to increase ties between China and Central Asia during his visit to Kazakhstan in September last year. He called for the building of the 21st-century "Maritime Silk Road" to enhance nautical partnership with other countries during a visit to Indonesia in October.
About 2,000 years ago, the Silk Road began from Xi'an, Northwest China's Shaanxi province, and linked ancient China with Central Asian countries and Europe from East to West.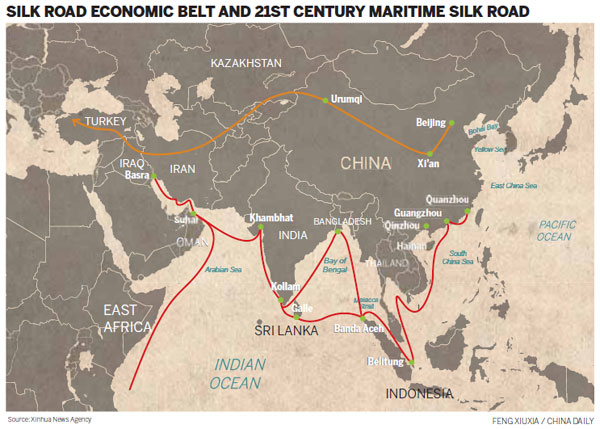 Maritime Silk Road, which is also almost as old as the Silk Road, traces its history to the period when ancient merchants sailed from China's eastern coast, passing Southeast Asia, south India and East Africa, all the way to the Persian Gulf and the Red Sea, strengthening economic and cultural ties with the whole region.
The expo in Lianyungang, the eastern end of the New Eurasian Land Bridge, linking eastern sea routes with western land routes, will display port service functions and showcase logistics companies along the Silk Road, said Cao at a promotional event at the Eighth Chinese Enterprises Outbound Investment Conference held in Beijing on April 16. It will also have an earmarked area to display logistics equipment and technologies and an area to showcase the eastern bridgehead, the Lianyungang port.
A forum will be organized at the expo where officials from transport and port management departments and executives from logistics companies will discuss the construction of the new Eurasia logistics thoroughfare and ways to boost cooperation between the East and the West.
A promotion will highlight projects, such as a logistic park and a storage base, at the Silk Road land-sea connecting area.
A roundtable will also be held during the expo to boost cooperation between ports and shipping companies.