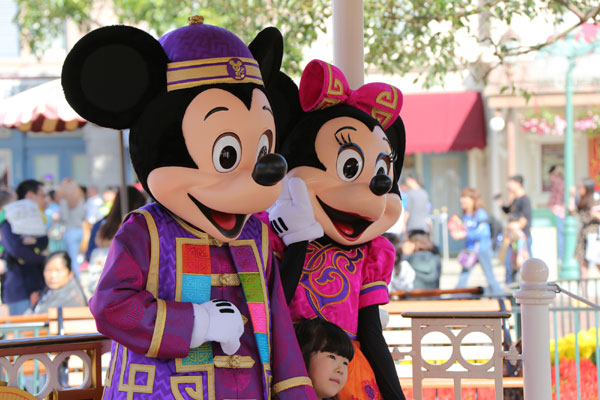 A child enjoys visiting Hong Kong Disneyland. Stanley Cheung, managing director of The Walt Disney Co, China, said by 2022,the Chinese are expected to spend 100 billion hours enjoying a Disney experience every year. Geng Feifei / China Daily
Entertainment company to open Shanghai resort and sell products
The world's largest media company The Walt Disney Co is looking to further tap Chinese spending power through retail and interactive products and the opening next year of Shanghai Disney Resort.
Stanley Cheung, managing director of The Walt Disney Co, China, said by 2022, the Chinese are expected to spend 100 billion hours experiencing Disney every year.
The media and entertainment market value in China is expected to be $43 billion in 2014 and $89 billion in 2018, driven mainly by digital and gaming products, according to industry statistics.
For the Los Angeles-based company, digital content development will focus on licensing games on mobile terminals and multi-screens.
"Given the ever-changing digital and media landscape, we are constantly challenging ourselves in the ways of connecting with our audience," said Cheung. "Our goal in China remains the same - to bring content to consumers on all platforms they prefer."
Connecting people with the latest science and technology is vital if Disney is to explore the Chinese market, he said. The company already works with local communication application WeChat.
Retail and consumer products are considered a rapidly rising unit of Disney's businesses in China. Visitors to the Shanghai resort are expected to be familiar with Disney story-telling and characters and it's hoped their trip will encourage them to buy Disney products.
Cheung said the Shanghai resort's opening will enhance Disney brands in China. The park will have the world's only Treasure Cove themed attraction where people can watch the movie The Pirates of the Caribbean. Shanghai will also house the world's largest directly-operated Disney store, to be located in the city's Lujiazui financial district. It is scheduled to open in March.