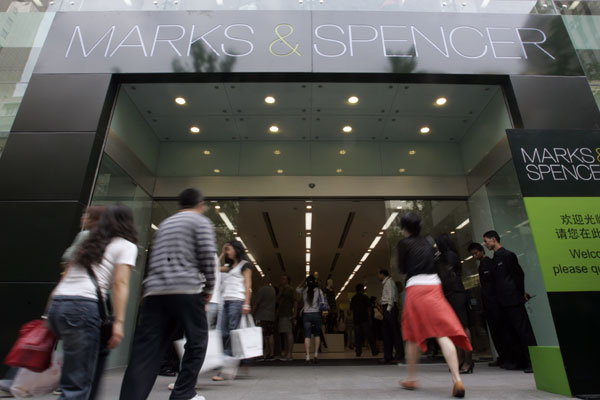 A Marks & Spencer store in Shanghai. CHINA DAILY
Emphasis to shift from Shanghai to Beijing and Guangzhou
British leading retailer Marks & Spencer Group Plc is revamping its China operations to boost flat sales, a plan that means closing two to five stores in Shanghai while opening new stores in Beijing and Guangzhou and enhancing e-commerce operations on leading retail website Tmall.
"We continue to review the shape of our existing store portfolio and may relocate a couple of our existing supporting stores in the Shanghai and surrounding area to
open our new flagship stores in cities like Beijing and Guangzhou," the company said on Tuesday in response to queries from China Daily.
"We expect this to be around two to five store relocations, but our ambition is to still have 15 owned stores complemented by stores with our local partner and an online presence."
The retailer entered the Chinese market in 2008.
On April 1 at an analysts seminar in Paris, the retailer unveiled international plans that include 250 new stores, an expansion of its food business and an increase in its franchise operations.
M&S said that over the next three years, it will concentrate on growing international revenue by 25 percent and international profits by 40 percent.
Its growth plan for the Chinese market includes focusing on its existing owned flagship and central stores in Shanghai and entering new cities including Beijing and Guangzhou with directly operated flagship stores.
Stephen Rayfield, who is M&S' managing director for China, said the flagship stores at Golden Bell and West Nanjing Road continue to perform well, and the company believes there is an opportunity to enter new cities such as Beijing and Guangzhou.
"At the new flagships, customers will be able to shop our extensive range of quality fashion and food," said Rayfield. At present, the retailer has seven stores in Shanghai, two in Changzhou and one store in each of Ningbo, Wuhan, Qingdao, Jiangyin, Wenzhou and Suzhou.