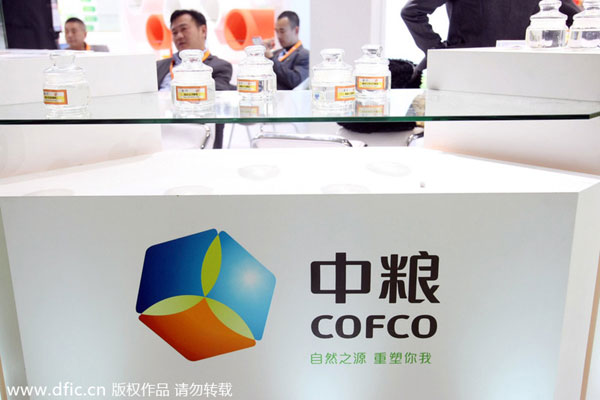 Employees are seen at the stand of COFCO (China National Cereals, Oils and Foodstuffs Corporation) during an exhibition in Shanghai, China, March 27, 2014. [Photo/dfic.cn]
China National Cereals, Oils and Foodstuffs Corp, the country's largest food trader, reached an agreement on Wednesday to acquire a 51 percent stake in the agribusiness of Noble Group Ltd, a global supply chain manager of agricultural and energy products, metals and minerals, headquartered in Hong Kong.
The remaining stakes in the joint venture, Noble Agri Ltd, will be held by Noble, according to the agreement.
The value of the deal was not disclosed.
COFCO said in the statement that it has spent a total of $2.8 billion on the deal and a previous acquisition with Nidera BV in February. The Chinese food trader acquired a 51 percent stake in the Rotterdam-based grain trader in February.
The two deals mark the highest investments recorded by COFCO for overseas acquisitions.
Although COFCO did not disclose the individual amount of each agreement, it is now able to control about $11 billion of assets after the two acquisitions, according to the statement.
Noble Agri will become the principal international origination platform for COFCO, with its upstream origination and trading operations linked to the downstream processing and distribution capabilities of COFCO and its affiliates in China, to create a fully integrated value chain to further secure China's grain and agricultural product security, the statement said.