Key differences with US mean that Lehman-style shock remains unlikely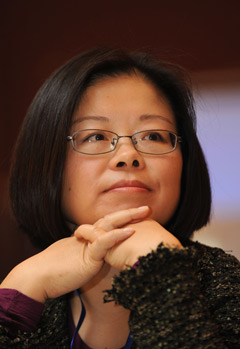 Wang Tao, chief China economist,UBS AG 
As more trust and wealth management products mature and as the economy slows this year, the number of payment issues and defaults hitting headlines will inevitably rise. However, a systemic "Lehman-style" financial crisis remains highly unlikely in our view.
With the same 7.5 percent gross domestic product growth target and 13 percent M2 money supply target maintained for this year, it is unlikely policymakers will allow credit growth to slow much, hence our expectation is for overall credit to expand by 16 percent this year. That said, heightened liquidity and credit volatility will persist and remain a key risk for China this year, as interest rate liberalization continues to unfold, shadow credit defaults increase and the government tries to slow the pace of leveraging. While this is not our view, should a cluster of defaults trigger a meaningful loss of confidence in the shadow banking market, leading to liquidity shrinkage in those markets, a financial system meltdown akin to what occurred in the US in 2008 should not result, for four key reasons.
First is size. China's non-bank financial intermediation or shadow banking system is much smaller relative to the size of its overall financial system when compared with many developed economies such as the US. At the end of 2013, we estimate that China's shadow banking system ranged between 30 to 40 trillion yuan ($4.8 trillion to $6.4 trillion, 50 to 70 percent of GDP) compared with the 117 percent global average and 170 percent for the US at the end of 2012. The latter information was compiled by the Financial Stability Board, which also reported a much smaller China number of 25 percent of GDP. As a share of total system credit, China's shadow banking system accounted for just under 25 percent of the total, compared with the global average of 34 percent and the US' 65 percent. (Our broader definition puts China's at 25 to 33.3 percent.)
Wang Tao's earlier articles
Is China losing competitiveness or moving up value chain?
UBS cuts 2014 China CPI forecast to 2.7%
Aiming for both growth and reform