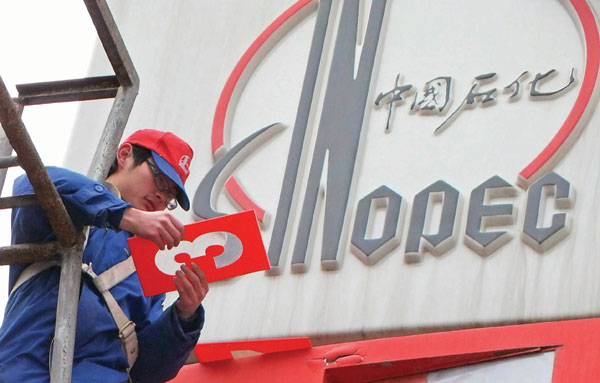 Workers update a sign displaying gasoline and diesel prices at a Sinopec gas station in Yichang, Hubei province. [Photo/China Daily] 
Sinopec, the country's largest oil refiner, announced on Monday that the company has made a significant breakthrough in the exploration and development of shale gas reserves in Chongqing.
The breakthrough means the country can enter into large-scale commercial development of shale energy earlier than expected.
The Fuling shale gas field in southwestern Chongqing is China's first large-scale shale gas field, with reserves of 2.1 trillion cubic meters, according to geological data and expert analysis.
The company expects an annual output of 10 billion cubic meters of gas by 2017, equivalent to 10 million metric tons of oil.
Annual output at Fuling will reach 1.8 billion cubic meters by the end of 2014 and 5 billion cubic meters by 2015, a tenfold increase over what was previously planned, the company said.
Fu Chengyu, chairman of Sinopec, said the discovery at Fuling cuts 10 years off the development time outlined in the original plan.
"The successful application of these developments in Fuling gave us confidence to extend them to other projects around the nation," Fu said. "Given China's abundant shale gas resources, we believe this will significantly support and accelerate the implementation of the country's strategy, increasing the supply of green energy and optimizing the energy consumption structure. It will also deliver benefits to energy conservation, emission reductions and air pollution control."
Under China's 12th Five-Year Plan for the shale gas industry, the country would reach a total output of 6.5 billion cubic meters by 2015. If development proceeds as expected, Sinopec will be positioned to contribute 77 percent of that target.