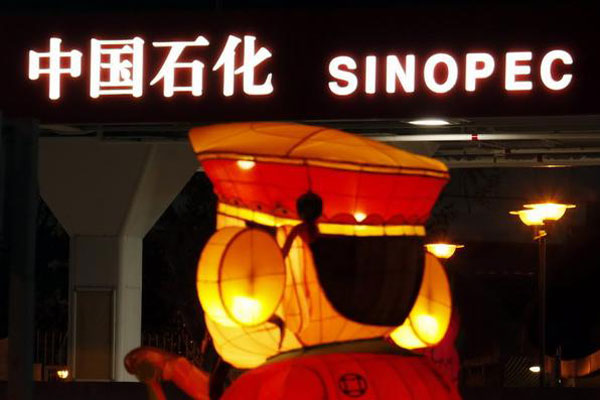 File picture shows a Chinese New Year lantern installation on display outside a Sinopec gas station in Hong Kong. [Photo / Agencies] 
BEIJING - China Petroleum and Chemical Corporation (Sinopec), the country's largest oil refiner, announced Sunday its net profits rose 3.5 percent year on year in 2013.
The net profit stood at 66.13 billion yuan ($10.76 billion) as calculated according to the international financial reporting standards, the company said in a statement filing to the Shanghai Stock Exchange.
By the Chinese reporting standards, Sinopec's business profit gained 9.7 percent to 96.45 billion yuan in 2013 while the net profit rose 5.8 percent to 67.19 billion yuan.
The refinery sector gained 3.2 percent to 131.13 billion yuan last year, which ended the losses of 11.95 billion yuan in 2012 and 37.61 billion yuan in 2011, according to the report.
In 2013, Sinopec produced 443 million barrels of crude oil, up 3.48 percent from a year ago. Considering the 6.6-percent decline of the global crude oil price last year, the company's crude oil business profit dropped 21.8 percent to 54.8 billion yuan.
The company also announced more input in the shale gas business development this year, targeting to expand new production capacity of 1.8 billion cubic meters per year.
Meanwhile, the company will expand business channels and attract more social and private capital in 2014, said Fu Chengyu, chairman of Sinopec Group.