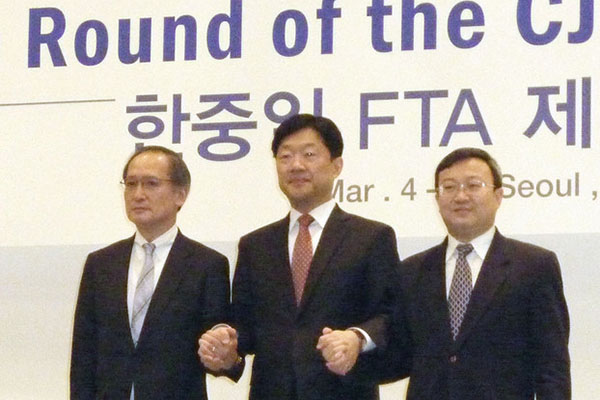 Chinese Assistant Minister of Commerce Wang Shouwen (R), Japanese Deputy Foreign Minister Yasumasa Nagamine (L), and Woo Tae Hee, South Korea's assistant trade minister and a chief negotiator for the FTA talks join hands at the outset of the fourth round of talks between China, Japan and South Korea that kicked off in Seoul on March 4, 2014. [Photo / dfic.cn]
South Korea is quickly overtaking Japan as China's regional trading partner of choice as its automobiles and electronics are snapped up by the world's second-largest economy, reports Yao Jing
Even as China, South Korea and Japan held the fourth round of talks in Seoul earlier this month for a trilateral trade treaty, some changes in the web of relationships linking the countries were developing under the radar.
One key change was that South Korea surpassed Japan last year to become China's biggest source of imports.
China's consumer boom and economic restructuring mean it needs mechanical and electronic items, which are South Korea's major products. And China-Japan trade continues to be affected by prolonged territorial disputes and political tensions.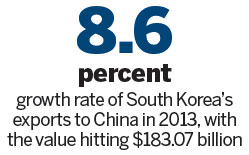 Both countries, which offer similar products and technologies, are battling for their share of the world's largest market.
At the beginning of this month, South Korea reported that it had posted a trade surplus for 25 consecutive months as exports continued to grow.
Exports to China, South Korea's largest trading partner, increased 8.6 percent last year to $183.07 billion, according to the Ministry of Commerce.
South Korea supplied 9.24 percent of China's imports in 2013, up from 9.17 percent in 2012. The proportion for Japan slid from 9.78 percent to 8.19 percent, according to South Korean official data.
"Catering to China's economic growth, South Korea's exports of automobiles and petrochemicals, smartphones, and flat-screen TVs to China have witnessed a pickup in recent years," said Song Hong, an economist at the Institute of World Economics and Politics at the Chinese Academy of Social Sciences, a government think tank.
South Korea's automobile exports reached a new high of $48.7 billion in 2013, with exports to China up 13.2 percent, according to the South Korea's Ministry of Trade, Industry and Energy. Exports of industrial components to China were up 5.8 percent in 2013.
South Korea is becoming a much more open market, and companies based there are showing more ambition to expand abroad.
South Korea has signed FTAs with the United States and Europe, which took effect in 2012 and 2011, respectively.