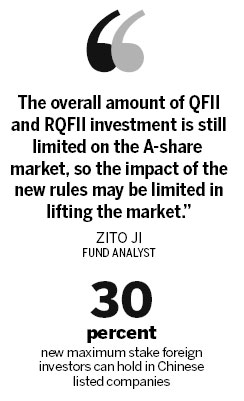 Relaxed regulation unlikely to create big short-term waves amid low stock market confidence: Analysts
Foreign investors can own more of a listed Chinese company after rules were relaxed to draw long-term overseas capital.
Qualified Foreign Institutional Investors (QFII) and Renminbi Qualified Foreign Institutional Investors (RQFII) can hold up to 30 percent of a company, under a guideline issued by the Shanghai Stock Exchange on Wednesday.
That had earlier been capped at 20 percent of total outstanding shares in a company. Foreign investors will soon also be able to invest in more financial products, including asset-backed securities and preferred shares, according to the authority.
Analysts said the move is meant to attract more long-term capital and boost China's equity market. It is in line with the Chinese leadership's plan to further open up the capital market.
QFII and RQFII are programs for licensed foreign investors to buy and sell yuan-denominated "A" shares on the Shanghai and Shenzhen stock exchanges.
State Administration of Foreign Exchange data show that in February, China issued total quotas of $52.3 billion under the QFII program and 180.4 billion yuan ($29.32 billion) under the RQFII program, which allows investments using offshore yuan.
QFIIs increased holdings in more than 20 Shanghai-listed companies, according to their annual reports. The Bank of Ningbo Co Ltd and Ping An Insurance (Group) Co of China Ltd were among companies that got the most QFII investment, Securities Times said on Thursday.
Analysts said foreign investors, favoring long-term value investment, are cautious about China's stock market, which has suffered bearish sentiment since 2008 and has been hurt by insider trading and price manipulation scandals.
"The overall amount of QFII and RQFII investment is still limited on the A-share market, so the impact of the new rules may be limited in lifting the market," said Zito Ji, an analyst with a mutual fund in Shanghai.
Investors cite corporate governance as a problem. Analysts say a lack of clarity about how Beijing will tax profits from QFII investments has also restrained some investors, Reuters said.
A weakening yuan and a pressured property industry is dragging investor confidence in China's stock market.
The benchmark Shanghai Composite Index slumped by 1.4 percent to 1,993.48 on Thursday. And Shenzhen Component Index dived to a five-year low to 6,698.2.