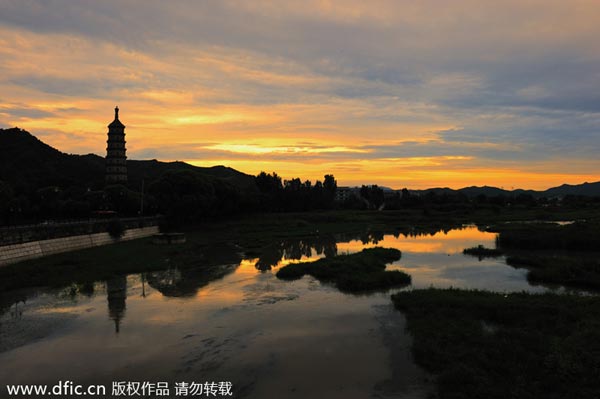 Sunset view from Imperial Summer Palace in Chengde. [Photo/dfic.cn]
A Hebei city aims to build China's "Windsor" to draw more retired people from Beijing and Tianjin municipalities.
"Our predecessors picked a livable place for us 1,000 years ago," said Zhao Fenglou, mayor of Chengde, 230 km from Beijing and 330 kilometers from Tianjin.
"Emperor Qianlong of the Qing Dynasty (1644-1911) built his summer palace here, demonstrating that Chengde is a great choice for living and also so close to the national political and economic center."
Top leaders decided in the 2014 government report to improve coordination in the Beijing-Tianjin-Hebei region to ease the capital's population pressure.
"I read about Windsor with its beautiful nature and reputation for quality of life. As a small town close to the UK capital London, Windsor attracts many retirees and rich people from the capital," said Zhao, a deputy of the National People's Congress.
"Chengde can provide amazing nature, fresh air and a quality life" for Beijing's elderly and wealthy, he said.
People from all over the world swarm to Beijing, and the city is overwhelmed. Suburban retirement homes, are full and it's extremely difficult to get a place. It's an opportunity for Chengde, he added.
"Beijing retirees have a comparatively high pension. Many are able and willing to pay as much as 6,000 to 10,000 yuan ($1,627) a month for high-quality care. The elderly-care industry will bring Chengde considerable income," Zhao said.
It is Chengde's duty to ease the capital's population problems, he said.
China's over-60s account for 14.9 percent of the population, according to the Ministry of Civil Affairs. More than 200 million people are in that age bracket, according to the China National Committee on Aging. That's greater than the entire population of either neighboring Russia or Japan.
The committee estimated a third of Chinese will be 60 or over by 2050. That may be a boon to services for the elderly.
Zhao hopes resulting increased new jobs in Chengde will entice locals to remain.
Many young people from Chengde, particularly its mountainous and rural areas, have left for the capital or Tianjin as migrant workers.
"If they can find jobs at home, they might stay instead of swarming into big cities," Zhao said. "Residents in rural areas will automatically become urban residents if industries are built there." He said the government will offer preferential terms on land sold for the development of care homes.