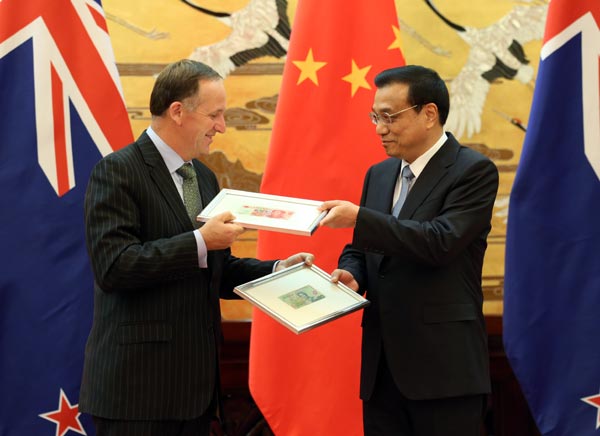 Premier
Li Keqiang
(R) and New Zealand Prime
Mini
ster John Key exchange sample banknotes at a ceremony in the Great Hall of the People in
Beijing
on Tuesday. They announced that the two countries have approved direct trading between their currencies. Photo by Wu Zhiyi / China Daily
China and New Zealand announced a landmark deal on Tuesday that allows the direct trading of the two countries' currencies.
The deal, which takes effect on Wednesday, ends the need for companies and currency traders to convert Chinese yuan or New Zealand dollars into a third currency, usually
US dollars
, when making or receiving payments.
The move will cut the costs of conversion while boosting cooperation in trade and finance, Premier Li Keqiang said during a meeting with New Zealand's Prime Minister John Key.
Li called for New Zealand to continue supporting China's financial organizations as they set up branches there and recommended that its enterprises use Chinese currency.
The agreement will make doing business with China easier, Key said, adding that New Zealand looks at the deal as an opportunity to expand cooperation with China in a variety of fields including trade, finance, education and tourism.
New Zealand's currency is the sixth to be granted direct-trade status, after the US dollar, Japanese yen, Australian dollar, Russian rouble and Malaysian ringgit.
Rapidly growing bilateral trade is right for New Zealand, observers say.
"It makes sense for this country to follow in Australia's footsteps and notch a convertibility deal," Fran O'Sullivan, a columnist at the New Zealand Herald, said in a recent article.
New Zealand reported November numbers marking its first trade surplus in 22 years as rising dairy exports into China made it the country's biggest trading partner.
According to Key's previous estimate, bilateral trade volume will exceed 20 billion New Zealand dollars ($17.24 billion) by 2015.