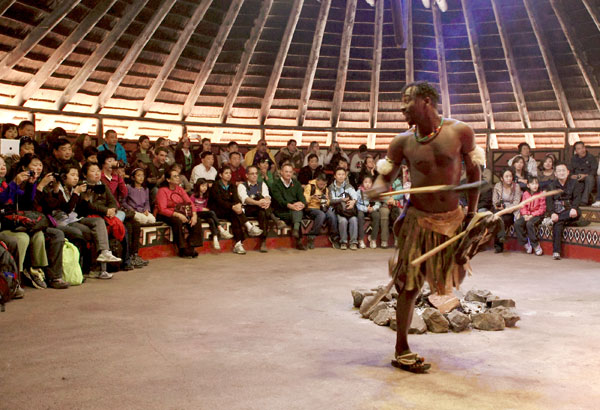 Chinese tourists watch ethnic dancing in the suburbs of Johannesburg, South Africa. [Zhang Guilan / For China Daily]
CAPE TOWN - South Africa's bilateral trade with China saw a 32-percent increase in 2013 over the previous year, Trade and Industry
Mini
ster Rob Davies said on Wednesday.
Two-way trade between the two countries increased from 205 billion rand ($19.2 billion) in 2012 to 270 billion rand ($25 billion) at the end of 2013, Davies said in a written reply to a parliamentary question.
There is indeed scope to expand South Africa's exports to China in value-added manufactured products, particularly as the Chinese economy continued to register strong growth rates, said Davies.
Chinese investments in South Africa, meanwhile, continued to grow, Davies said.
Between January 2003 and January (this year), a total of 38 FDI (foreign direct investment) projects were recorded. These projects represent a total capital investment of 13.33 billion rand (about $1.24), which is an average investment of 350.48 million rand ($33 million dollars) per project.
"During the period, a total of 10,992 jobs were created," he said.
These investments were spread across the metals; car; communications; financial services; food and tobacco; chemicals; industrial machinery; construction; engines and turbines; and transportation sectors, according to Davies.
South Africa offers a 'totally different' travel experience for Chinese tourists
South Africa is gateway to a vast continent