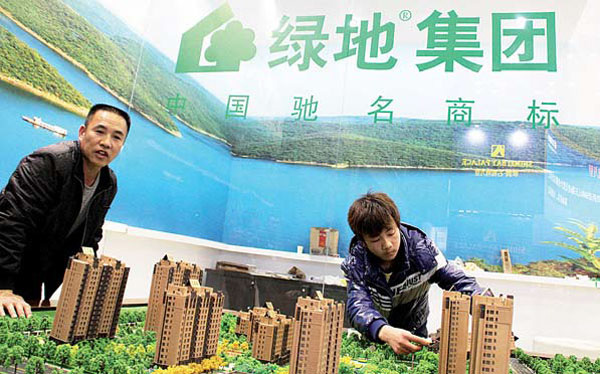 Greenland Holding Group announced an investment of 1.2 billion pounds ($1.99 billion) in two overseas development projects. Provided to China Daily 
Chinese investment in British real estate has increased remarkably and will continue in the coming years, industry insiders say.
Dalian Wanda Group, one of China's largest and most ambitious conglomerates, plans to invest up to 3 billion pounds ($4.97 billion) in regeneration projects in Britain.
British Prime Minister David Cameron announced the investment on Jan 24 after meeting Dalian Wanda chairman Wang Jianlin at the World Economic Forum in Davos, Switzerland.
"When I met Chairman Wang Jianlin during my recent trade visit to China, I encouraged him to make further investment in Britain. So I'm delighted that Wanda has decided to invest 2 to 3 billion pounds in regeneration projects," Cameron said.
"This will help to create jobs in Britain and it's a great example of how we can benefit from foreign investment."
This latest plan shows Chinese companies are entering the country's real estate market enthusiastically.
In London on Jan 7, Greenland Holding Group, a Shanghai-based and State-owned developer, announced an investment of 1.2 billion pounds in two overseas development projects.
It signed a contract with Minerva, the property investment and development group bought by clients of Ares Management LLC and AMC Delancey Group Inc in 2011, to buy the Ram Brewery development site in the Wandsworth area of London.
The transaction, valued at about 600 million pounds, represents Greenland's first acquisition in Britain.
Besides that development, Greenland will be investing in a high-end residential housing project at Canary Wharf in London.
Research published in last December by Jones Lang LaSalle Inc, a Chicago-based real estate service and investment company, showed Chinese investment in London real estate rose from 54 million pounds in 2010 to more than 1 billion pounds at the end of the third quarter of 2013.
This increase means Chinese investment in London real estate now accounts for more than half of the total figure for Chinese investment in the rest of Europe, which stood at 1.9 billion pounds last year. While the research does not reveal how much was invested by Chinese companies. Real estate records show that they made many important deals last year.
Key investors at the moment are developers, insurance companies and sovereign wealth funds.
"Among Chinese companies' investment in Britain, real estate has been an obvious hot spot and a rapidly rising area in recent years," says Zhou Xiaoming, minister counselor of the Chinese embassy in London. Offices, retail and industrial units, hotels and mixed developments are the most attractive asset classes to Chinese companies.