ASEAN yuan use widens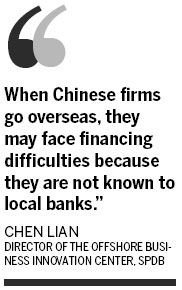 SPDB set up a sister center two years ago in Xiamen, Fujian province, to facilitate rocketing cross-Straits business
transactions. The current center is set to sort out the uniqueness of the ASEAN market, she noted.
Beijing has so far clinched four swap agreements among ASEAN members to prevent trade and investment from foreign exchange losses and lessen dependence on a third currency.
It is also an active advocator of the multilateralization of the Chiang Mai Initiative, a regional currency swap arrangement that seeks to manage short-term liquidity problems.
The volume of bilateral swap agreements with local banks has reached 1.4 trillion yuan ($228 billion), while yuan-denominated cross-border settlements between China and the ASEAN reached 1.12 trillion yuan by June of this year, said Yi Gang, deputy governor of the People's Bank of China and head of the State Administration of Foreign Exchange.
Yi urged cross-border trade and investment settlements in local currencies to proliferate to all ASEAN members, which effectively lowers transaction costs and facilitates liquidity.
The presence of Chinese financial institutions has diversified Cambodia's infant financial market and helped the country fulfill many infrastructure projects, said Chea Chanto, governor of the National Bank of Cambodia.
"Two commercial banks - the Bank of China and the Industrial and Commercial Bank of China Ltd - started operations two years ago. Their good performances and the close collaboration between the two countries' central banks provide opportunities and confidence to draw Chinese investors to come to Cambodia," said Chea Chanto.
The State-backed China Development Bank has provided loans to aid the construction of roads, irrigation systems and energy sectors.
Cambodia has yet to achieve settlements in yuan, but he said they have taken preliminary steps by opening yuan accounts in local banks. He is optimistic to realize the goal "very soon".
Major banks in Cambodia have witnessed rising demand for yuan settlements, said Niu Jianjun, head of ICBC's Phnom Penh branch, who maintains a close relationship with local banks.
But there remain hurdles, given its history with US dollar settlement, as well as the relatively small volume of imports from China, which gives it less of an incentive to use the yuan.
"The ongoing Trans-Pacific Partnership Agreement and the trans-Atlantic trade agreement negotiations both intend to set the stage for a Western-dominated trade agenda. There is no way out but to strengthen our financial ties," said Han Mingzhi, chairman of the board of supervisors of China Merchants Bank Ltd.
Yi warned that the exit of quantitative easing policies may result in a wave of capital outflows and is likely to cause foreign exchange turbulence.