ASEAN yuan use widens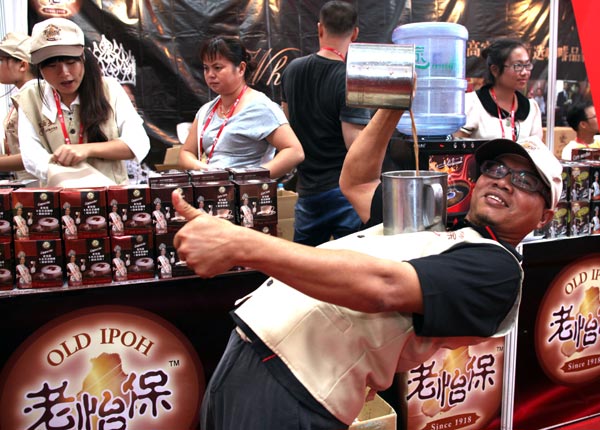 A promoter prepares a traditional drink on Tuesday at the Malaysia booth at the China-ASEAN Expo in Nanning, the Guangxi Zhuang autonomous region. The expo opened on Wednesday. Huo Yan / China Daily
Chinese banks are poised to widen the use of the yuan among the Association of Southeast Asian Nations by expanding the scope of currency convertibility and conducting offshore trials of the currency.
The moves answer the latest call made by Premier Li Keqiang to implement bilateral and regional local-currency swap agreements to safeguard financial and economic stability in the region.
Bank of China Ltd, the country's most prolific foreign exchange provider, has enabled conversion of the Indonesian rupiah with the yuan across its branches in the Guangxi Zhuang autonomous region.
One yuan was equal to 1,814.88 Rp upon the maiden exchange day on Wednesday.
This is the sixth ASEAN member with a currency that can realize cash convertibility in China, following Singapore, Thailand, the Philippines, Vietnam and Malaysia.
The bank's Guangxi branch may leverage its geographic proximity to ASEAN markets and serve soaring two-way trade and investment demands, said Yang Shihua, the bank's chief operating officer.
Regional financial collaboration gained added momentum when Shanghai Pudong Development Bank Co Ltd inaugurated its offshore business innovation center in Nanning, the capital city of Guangxi, to explore best practices in cross-border yuan settlements.
With SPDB being one of the four banks that obtained the offshore yuan business license, the testing of the water is designed to tap into Chinese businesses that have financing needs in ASEAN-related projects, Ji Guangheng, executive vice-president of the lender, told China Daily.
"When Chinese firms go overseas, they may face financing difficulties because they are not known to local banks. But so long as the firm holds a parent company guarantee, domestic banks may skirt potential risks and feed their funding needs," said Chen Lian, head of the center.