US to be largest trade partner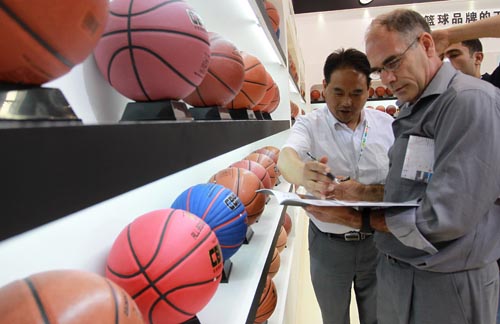 A trader places orders for basketballs at a sports equipment expo in Beijing. China's trade with the United States may reach $450 billion in 2013, while its trade value with the European Union is expected to hover around $420 billion. [Cui Meng / China Daily]
Report suggests two countries further deepen cooperation
China and the United States will probably become each other's largest trade partner by 2022, and China will surpass Canada and Mexico to become the largest importer of US goods by then, said a report released on Tuesday.
The report - US-China Economic Relations in the Next 10 Years: Toward Deeper Engagement and Mutual Benefit - was released by the China-US Exchange Foundation, and strongly suggests that the world's top two economies deepen their cooperation over the next decade.
It said closer ties will benefit the US, helping promote its exports to China and to add jobs domestically, thanks to China's commitment to advancing its urbanization drive and the nation's expanding middle class.
The report was released just days before President Xi Jinping's visit to the US - where he will have his first formal meeting with US President Barack Obama since taking office in March - and six weeks before the Strategic Economic Dialogue between the two countries in Washington.
According to the report, by 2022, the US is expected to surpass the European Union to become China's largest trade partner. It also said China will become the largest importer in the world, with its imports from the US expected to surpass $530 billion, three times the current figure.
By then, US exports to China is projected to create 1.81 million new jobs in the country, and the value of China's exports to the US is expected to grow to $805 billion.