Overview
In the first three quarters of 2012, 86.8 percent of all the 2,471 companies listed on the A-share market reported positive net income, against 91.3 percent in the same period of 2011, according to Wind Information Co Ltd, a securities information provider.
>>> Read more
Winners vs Losers
According to Wind Info, in the first three quarters of 2012, the top 10 most profitable listed companies were seven commercial banks, plus three energy giants.
Of the 10 companies that registered the biggest losses, six were in the iron and steel sector. >>> Read more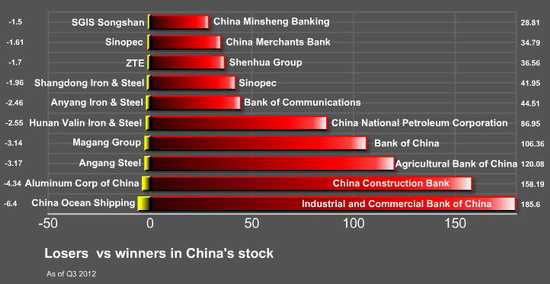 Price-to-earnings ratios
The average price-to-earnings ratios of the Shanghai and Shenzhen stock exchanges came to about 13.25 times as of November 2012, compared to the 13.4 times of the Shanghai bourse and 23.11 times of the Shenzhen Stock Exchange at the end of 2011, according to China Securities Regulatory Commission.
IPOs
Only 154 Chinese companies held domestic IPOs in 2012, raising total financing of 103.4 billion yuan ($16.5 billion), a year-on-year drop of 60 percent, according to Zero2IPO.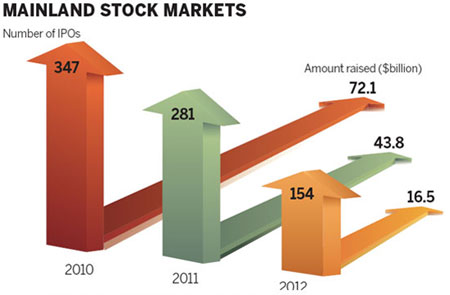 In order to supplement the capital pool of the stock market, the government accelerated its pace in approving qualified foreign institution investors in 2012, and expanded the QFII quota.
China approved 66 QFIIs in 2012, with the total QFIIs coming to 201 by the end of November 2012.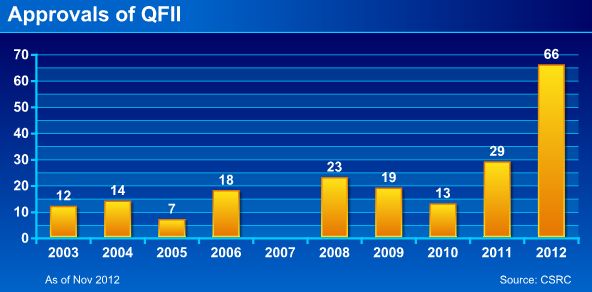 By Nov 30, the administration had allocated $36 billion of the quota. Guo Shuqing, chairman of the China Securities Regulatory Commission, said earlier that the authorities will raise the quota further if the $80 billion is used up.
But the combined value of foreign investments in China's stock market accounts for only 1 percent of the country's total market capitalization, Reuters said.
>>> Read more