Investors buoyed by government measures to boost struggling sector
Photovoltaic stocks increased sharply on Thursday, with Xi'an LONGI Silicon Materials Corp, Foshan Nationstar Optoelectronics Co Ltd and EGing Photovoltaic Technology Co Ltd all climbing to their 10 percent daily trading limit.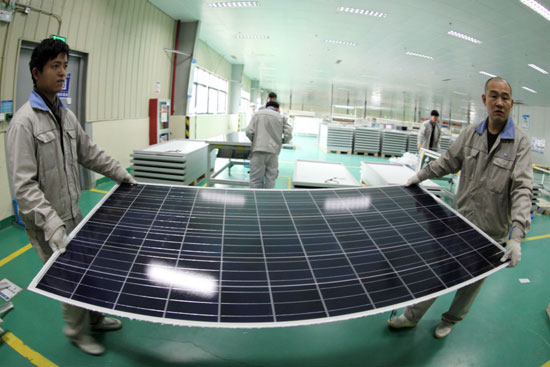 Workers carry a solar panel at a production plant in Ganyu county in Jiangsu province. China plans to install 2.83 gigawatts of solar production in its latest batch of solar-energy projects. [Photo/China Daily] 
After a roller-coaster year in 2012, investors are hoping that China's photovoltaic industry may enjoy brighter prospects in 2013.
Their renewed hope seems to be based on many favorable factors.
The State Council, China's cabinet, announced on Dec 19 a range of measures to boost the nation's struggling PV industry.
The announcement said China will accelerate structural adjustment and technological improvements in the PV sector, and encourage mergers and restructuring among manufacturers to phase out outdated capacity.
Shen Hongwen, a researcher at the new energy department of China Investment Corporation, said PV stocks increased slightly on the news, but more measures are needed to ensure the industry's recovery.
Under the second batch of a government program, more than 2.83 gigawatts of solar projects will be installed across China. In addition, the Finance Ministry said in December it would roll out a further 7 billion yuan ($1.1 billion) in subsidies for domestic solar PV demonstration projects.
Some photovoltaic enterprises have already got orders as a result of the program, including Yingli Green Energy Holding Co, EGing Photovoltaic Technology Co Ltd and Tebian Electric Apparatus Stock Co Ltd.
The stock prices of PV companies rose quickly after the government unveiled its measures to support the industry.
EGing Photovoltaic's stock price has increased from 7.9 yuan to 10.45 yuan since Dec 21. LONGI Silicon's share price rose from 6.62 yuan to 9.24 yuan over the same period.
The Shanghai Composite Index rose 0.4 percent to 2283.66 at the close on Thursday. The Hang Seng China Enterprises Index of mainland companies traded in Hong Kong climbed 1.1 percent.
There have been recent increases in the price of PV products, which help buoy up the stock prices.
PV Insight, a premier international solar PV research company, released a PV products price report on Jan 2, showing that the price of PV products rebounded after falling for nine consecutive months.
The biggest gains are in the prices of silicon cells, up 3 percent, and single-crystal solar cells, which rose by 2 percent.
The "Warren Buffet effect" also played a part in the PV stocks' bullish run. Buffett's MidAmerican Energy Holdings Co has agreed to spend $2.5 billion to build two solar projects in California that are set to be the world's largest photovoltaic developments.
MidAmerican will pay Sun Power Corp between $2 billion and $2.5 billion for the 579-megawatt Antelope Valley solar projects and to design, install and construct them, the company said on Jan 2.
Solar stock prices soared around the globe on Jan 3, spurred on by the announcement.
In addition, SMA Solar Technology AG, Germany's biggest solar company, bought a 72.5 percent stake in Jiangsu Zeversolar New Energy Co on Dec 21.
Pierre Pascal Urbon, chief executive officer of SMA Solar, said the acquisition is absolutely necessary to gain access to the Chinese market as all mature markets are declining, and China is forecast to be the world's biggest market for the technology in the near future.
Last year, Chinese PV makers suffered major losses in their share prices after the US Department of Commerce decided on Oct 10 to impose anti-dumping and anti-subsidy penalties on imports of Chinese PV products.
The department decided to activate final anti-subsidy and anti-dumping duty rates ranging from 24 to 255 percent on imports of Chinese solar products since the spring of the previous year.
Moreover, any future Chinese imports entering the United States will be subject to reviews that could result in higher duty rates for those imports.
Following that, the European Commission also launched an anti-subsidy investigation regarding Chinese PV products on Nov 8 following confirmation of its anti-dumping investigation on Sept 6.
huangtiantian@chinadaily.com.cn