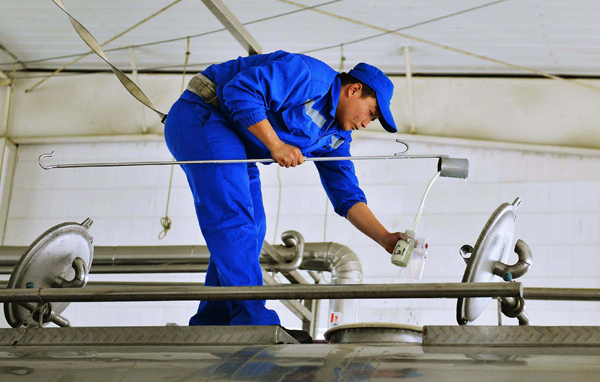 A China Mengniu Dairy Co employee collects milk from a Modern Farming Dairy Co truck for examination in Mengniu's plant in Ma'anshan, Anhui province. LONG WEI/FOR CHINA DAILY
China Mengniu Dairy Co posted first-half revenue up 6.6 percent to 27.26 billion yuan ($4.1 billion) on the previous year, beating market expectations and taking its share price up more than 10 percent on Thursday, but the company also reported that profit declined in the six months to June.
Benefiting from active brand promotion and marketing, the company reported in its interim results, released on Wednesday, that its gross profit margin increased by 1.8 percentage points year-on-year to 33.7 percent.
Mengniu's share price closed up about 12 percent on Thursday-the share's biggest daily gain since April 2009-to HK$14.58 ($1.88) after its first-half sales beat analyst estimates.
But the dairy's net profit declined by 19.5 percent to 1.07 billion yuan from 1.33 billion yuan last year, in a performance affected by its collaboration with Yashili International Holdings Ltd, low prices, weak sales of milk formula and intensifying competition.
Mengniu, which owns 25.41 percent shares of Modern Farming Dairy Co Ltd, the biggest milk supplier in China, was also affected by Modern Farming's loss of 566 million yuan for the six months to June, thanks to the decline in raw milk prices.
That result compared with a net profit of 477 million yuan for the same period last year.
Another raw milk producer, YuanShengTai Dairy Farm Ltd, posted a net loss for the period of 135.6 million yuan, compared with net profit of 10.9 million yuan for the same period last year.
Li Shengli, a professor at China Agriculture University, said dairy farms in China are under pressure with raw milk often priced higher than the market-averaged price.
Song Liang, a dairy industry analyst, said the high costs of large farms resulted from rising land prices, imported farming feed and disease prevention expenses.
Chinese companies in the dairy sector grew at a slower rate in 2015 than in previous years, affected by the depreciation of the yuan, according to the Rabobank Global Dairy Top 20 2016.
Earlier this year Yili Industrial Group Co reported full-year revenue to March of 60.3 billion yuan, up 5.9 billion yuan or 10.88 percent, on the same period a year earlier. Net profit was 4.63 billion yuan for the year, an increase of 11.76 percent.
High-end products now take up more than 40 percent of Yili's portfolio, boosted by the rising demand for quality dairy products, according to Yili.
Yili moved up two places on the list from its 2015 ranking.