Anti-tobacco campaigners have criticized the government's 2012-15 tobacco control plan as a "weak and futile" attempt to curb the habit.
The plan was jointly issued on Friday by eight government agencies, one of which was the State Tobacco Monopoly Administration, or China Tobacco Corp. China holds a State monopoly on the tobacco industry.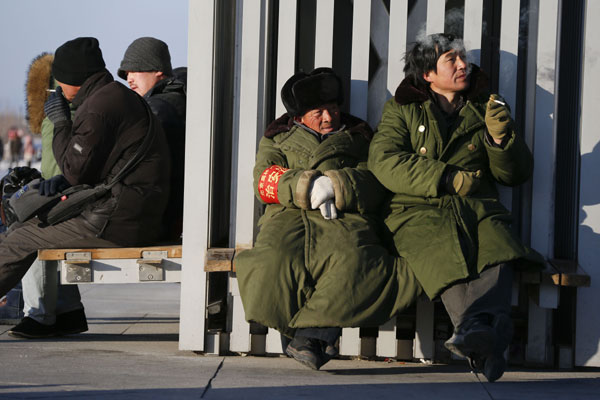 Smokers take a break at the Olympic Green in Beijing on Sunday. KUANG LINHUA / CHINA DAILY
Other government agencies included the ministries of industry and information technology, health and finance.
Under the plan, for at least three years, cigarette packages will not have graphic warnings that depict the physical effects tobacco can have on the body.
"Countries and regions worldwide have been putting graphic labels on cigarette packs, and China is lagging far behind the rest of the world in this," said Wu Yiqun, deputy director of the Think Tank Research Center for Health Development, a Beijing-based NGO committed to tobacco control, who described the plan as "weak and futile".
The center released its own report on tobacco and smoking control in China on Tuesday, calling for awareness of the obstacles the anti-smoking lobby faces.
The graphic warnings show people who open a cigarette pack exactly the risks they will take, said Jiang Yuan, who heads the Chinese Center for Disease Control and Prevention's tobacco control office.
As of 2013, cigarette packages will have graphic labels in 63 countries and regions, covering more than 40 percent of the world's population, according to the World Health Organization.
In Australia and Uruguay, graphic warnings take up at least 80 percent of cigarette packs.
By contrast, by 2015 China's cigarette packets will only have labels with characters under the plan. Anti-smoking information, such as the phone numbers of hotlines to quit smoking, is likely to be printed on the packs.
To help curb smoking, tobacco product taxes and prices will rise.
At present, the tax rate for cigarettes is about 40 percent of the retail price, compared with the 65 to 70 percent world average, according to Wu.