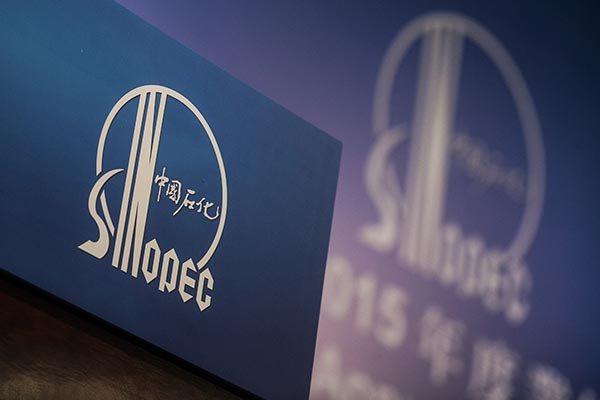 A China Petroleum & Chemical Corp (Sinopec) logo is displayed on a podium at a news conference in Hong Kong, China, on Wednesday, March 30, 2016. [Photo/VCG]
Sinopec Corp will sell a stake in the Sichuan-East China gas pipeline to no more than 15 investors, the company said in an announcement at the Beijing Equity Exchange on Wednesday.
Sinopec, the country's second-largest oil and gas group, said that it will sell half of its premium natural gas pipeline business to investors.
Sinopec said on Wednesday the proceeds will be used to expand the Sichuan-East China pipeline and build gas storage facilities. The company also said it first planned to raise capital of about 15 billion yuan ($2.3 billion).
The move is spurred by China's reform push to boost efficiency and increase infrastructure investment in cleaner fuel.
The government is keen to boost investment in the country's patchy 90,000-kilometer gas grids, which are less than one-fifth the size of the system in the United States. This has created a major bottleneck that limits consumption of gas, which has half the greenhouse gas emissions of China's biggest energy source-coal.
Sinopec said it spent 62.7 billion yuan to build the pipeline that runs 2,200 km from the southwestern province of Sichuan, a top gas-producing basin, to Shanghai on the eastern coast.
Its Sichuan-East China pipeline project, which started commercial operation in 2010, is able to carry about 12 billion cubic meters of natural gas a year, or about 6 percent of the country's total gas consumption.
Industry experts said Sinopec's plan, similar to one that its larger domestic rival PetroChina Co Ltd announced seven months ago, is a prelude to the reform packages Beijing is expected to roll out that targets various sectors, including oil and gas pipelines.
Reuters