Home prices in major cities increased for the sixth consecutive month in November amid rising market expectations.
The China Index Academy, a property research body, reported on Monday the average price of new homes in 100 monitored cities increased 0.26 percent monthly in November to 8,791 yuan ($1,395) per square meter. A rise of 0.17 percent was recorded in October.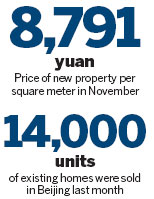 Sixty of the 100 cities saw a rise in property prices, up from 56 in October. But 38 cities experienced a fall, down from October's 42.
In 10 major cities, including Beijing and Shanghai, prices rose, reversing an 11-month decline.
Their month-on-month growth rate hit 0.39 percent in November, 0.13 of a percentage point higher than the national average.
HomeLink, a real estate agency, attributed the price increases to a rebound in market expectations.
"Potential homebuyers are giving up their wait-and-see approach since they learned from the National Congress of the Communist Party of China that no new measures will be introduced to lower prices," said Chang Qing, a HomeLink analyst.
Huang Qin, a 28-year-old company executive, just purchased a two-bedroom apartment on Beijing's Sixth Ring Road, after hesitating for eight months.
"There is no more policy change to count on, so I cannot wait anymore," she said.
Sales of existing homes in Beijing, for instance, saw a strong rebound in November, with transactions hitting 14,000 units for the month, close to the August peak.
The average price was 23,998 yuan per square meter, up 3.2 percent on the previous month and 6.3 percent on the same period last year, industry statistics showed.
"The market saw an obvious improvement,'' said Huang Yu, vice-president of China Index Academy. "With sales picking up in most major cities, many developers are close to completing their annual targets."
Moody's Investors Service has just changed its outlook for China's property sector to stable from negative on the expectation that improved sales and access to funding will continue in 2013.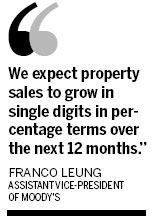 "We expect property sales to grow in single digits in percentage terms over the next 12 months," said Franco Leung, a Moody's assistant vice-president.
According to Leung, easing mortgage financing for first-time homebuyers, increasing development of mass-market products, solid underlying demand, and continuing urbanization, will improve sales, which in turn will lower the inventories of property developers.
Developers have been recording positive year-on-year growth in sales since June, after they started building more mass-market housing, which caters largely to first-time buyers.
A number of leading property developers have already achieved annual sales targets ahead of schedule.
"We are confident of reaching our annual sales goal of 27 billion yuan this year, and we can do it ahead of time," said Li Ming, president of Sino-Ocean Land Holdings Ltd, a real estate developer, adding that the company's sales in the second half of the year will exceed the first half.
Moody's believes that the regulatory environment will not change significantly in 2013. The government is unlikely to impose further regulatory restrictions to tighten the property market, because the current restrictions have been effective in discouraging speculation and reining in the price rises as a whole.
"A further cutback in investment in the property sector would also weigh on an already slowing economy and make it difficult for the government to achieve its stated target of GDP growth of 7.5 percent," Leung added.
Moody's also expects that developers will be able to refinance themselves in the next two years, as a variety of funding channels, such as offshore bond financing and asset sales, are now available.
Contact the writer at huyuanyuan@chinadaily.com.cn
Comment:
Subsidize those on public rental flat's waiting list
Related readings:
Home prices continue to rise in major cities
Prices of 2nd-hand homes climbs for 7th month
Home prices to rise in key cities in 2013