Industry lacks stability but there are many opportunities, say observers
Will Yang has drawn the curtains on his days of working the night shift, with its anti-social hours and difficulties with sleep patterns.
The money for the IT worker was good, especially with overtime thrown in, and there were frequent moments of downtime during which he could indulge his passion for playing games.
But he worked for an outsourcing company, telling staff at other businesses globally how to solve computer software problems and, as he now realizes, it's an industry still very much in its infancy and lacking in stability.
After working two years with Vanceinfo Technologies Inc, the largest Chinese offshore-outsourcing vendor in the United States and European markets, the 28-year-old quit his job as a senior global technical support engineer, at which he earned approximately 15,000 yuan ($2,400) a month.
His work involved providing remote maintenance services to the users of Tibco middleware, which is widely used by offices worldwide. He answered emails and took telephone calls from angry customers just about everywhere on the planet.
"The pay may sound OK but I just didn't like being yelled at at 3 am in the morning, 30 night shifts in a row and, most importantly, the feeling of insecurity," he said.
Yang's salary may seem attractive for a normal Chinese office worker but his work conditions were out of the ordinary.
For the graduate from a renowned university in Beijing, being assigned to the Tibco project, one of the best in Vanceinfo, was a privilege, he said.
For the majority of Yang's former colleagues, most of whom were serving domestic clients, the average pay was no more than 7,000 yuan, taking into account all the overtime. "Those 'in the pool', meaning not on any specific projects, have to rely on 2,000 yuan basic salary a month," he said.
Although he had to work night shifts, Yang was grateful his job kept him in his own office in Beijing. Most of his colleagues were transferred between different clients. "They do the their client's job, wear their client's access card but are never recognized as a member of the client's company," he said.
"I had no idea whether that situation would happen to me some day so I said to myself, 'I have to find a place where I actually belong'," said Yang, who is now on a long-term contract with a European communications giant, even though the new job doesn't offer much more money.
Yang's case is typical of the outsourcing industry in China, which is now at a crossroads after years of rapid development.
According to data released by the Ministry of Commerce, the annual revenue of offshore-outsourcing businesses for Chinese vendors has been growing at more than 50 percent annually over the last three years, from $10.1 billion in 2009 to $23.8 billion in 2011.
End of linear growth
By May this year, there were nearly 17,000 outsourcing companies in China employing about 3.5 million staff, among which 70 percent had an educational background of junior college level or above.
The boom in both the revenue and the number of employees, as well as the profits, used to be directly related in that if the staff doubled in size, the revenue and profits would also double accordingly.
The phenomenon was a result of a staffing model widely adopted in the outsourcing industry typical of which were the lower-paid workers sent to the client company by Yang's former employer.
Under this model, employees of outsourcing companies would work on-site with their clients, with their employer being paid monthly on a head-count basis. It is supported by millions of graduates from second- and third-tier colleges hungry for work. Many outsourcing companies exploited their need, hiring more employees because "the more people you send out, the more money would come in."
Those times now appear to be over as increasing labor costs and tougher competition squeeze profits.
"Over the past 10 years, the cost of a software engineer has risen four-fold but the clients' bid price has less than tripled," said Liu Jiren, chairman and chief executive officer of Neusoft Corp, another key player in China's outsourcing industry.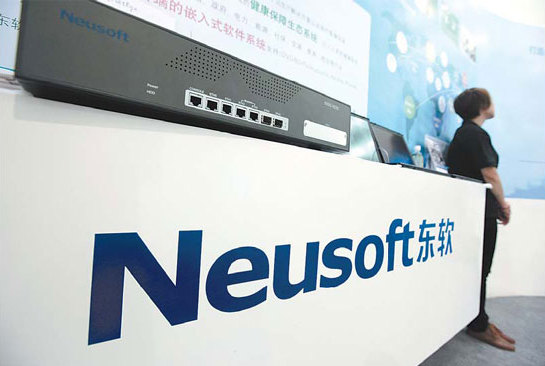 Chinese IT solution and service supplier Neusoft shows its company logo at a technology fair in Beijing. The annual revenue from offshore-outsourcing businesses for Chinese vendors has been growing at more than 50 percent annually over the last three years, according to data released by the Ministry of Commerce. [Photo/China Daily] 
As the number of companies increase, vendors' bargaining positions weaken because everyone is offering lower rates. "It is difficult for them to pass on the rising labor costs to the clients so the vendors' margins drop," Liu said.
Although the number of employees and the size of revenues continue to expand, outsourcing companies now face lower profit margins from a peak of 30 to 50 percent to less than 10 percent.
One consequence is an increase in the number of people changing jobs, as Yang did. In recent years, China's outsourcing companies have had to deal with losing more than 30 percent of their employees a year. In some companies the proportion is higher than 50 percent, although new faces can quickly fill the vacancies.
"At least half of the enterprises still rely on the head-count model. They will probably be eliminated by the reshuffle within the industry if they don't adapt to the changes," Liu said, adding that his company is shifting its focus from the expansion of its business scale to the pursuit of a sustainable business model.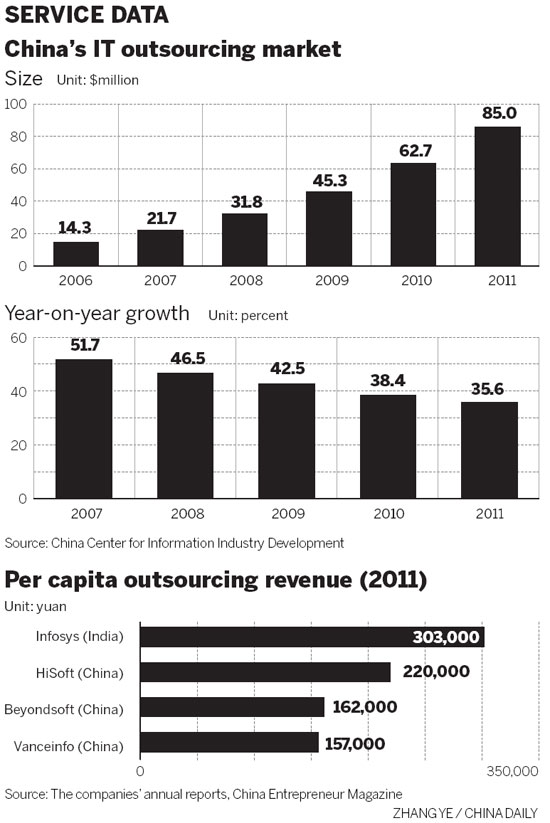 Some companies have chosen to confront the difficulties by merging, such as the one between Vanceinfo and HiSoft Technology Intl in August, which created the largest offshore IT services provider by revenue in China.
The economy of scale created by the merger is expected to save 65 million yuan in administration costs a year, and therefore lift the profit margin by 2 to 3 percent, according to a report in 21st Century Business Herald. That would be a significant improvement in an industry where the average profit margin is 10 percent.
However, the market responded to the strategy negatively. Shares of Vanceinfo on the New York Stock Exchange dropped as much as 13 percent the day after the merger was announced, while those of HiSoft fell 7 percent on the Nasdaq.
"We see more companies striving to cut their costs as they face difficulties but the key to this issue lies in identifying new opportunities and increasing the value created by each employee," said Qian Fangli, director of the China Outsourcing Institute, which is affiliated to the Ministry of Commerce.
In terms of the annual revenue per capita in 2011, a Vanceinfo employee would generate less than 160,000 yuan a year. HiSoft employees were a little bit more productive but it was only slightly more than 200,000 yuan, a figure considered to be the cut-off point for Chinese vendors when the size of the company reaches a certain level.
Compared with their Chinese counterparts, employees of Indian outsourcing companies have a much better time. At Indian firm Infosys Ltd, a world leading outsourcing company, although the number of employees exceeds 150,000, the revenue per capita is around $50,000 a year, twice as much as that at average its Chinese counterparts.
While China's vendors struggle with a profit margin of 10 percent, Infosys maintains a profit margin of 25 percent.
Gap with India
Unlike the upcoming cold winter for the outsourcing industry in Beijing, things are still warm down south in Shenzhen, Guangdong province.
Larry Chen has enjoyed the opposite experience to Yang. After leaving his former post at IBM, Chen joined the Tata Group, an Indian communications and IT giant this June to become an "insecure" IT engineer in one of the company's outsourcing centers based in Shenzhen.
Currently working on a project for a world-class investment bank in Hong Kong, Chen travels to the Special Administrative Region, which is just a few kilometers away, on a regular basis and deals with issues occurring within the client's system and operating processes.
"There is no such thing as 'head-counting' here in Tata. We're all working as a team with our client on a project basis," he said, adding most of his job is completed in the Shenzhen office unless he is wanted in Hong Kong.
Chen's basic salary is 14,000 yuan a month. It is nowhere near what his co-workers in the team on the client's side earn but, taking into account overtime rates and other bonuses, Chen's income is very competitive for someone with five years of experience.
"Plus we don't have to work night shifts at all," said Chen, adding the majority of his company's clients are Hong Kong-based financial institutions.
"The fundamental difference between Indian and Chinese companies is Chinese companies are still 'people-based', whereas Indian companies have become 'package-based'," said Ramgopal Natarajan, head of the delivery, consulting and systems integration services of Infosys China.
"When you buy IT outsourcing from an Indian company, you don't just buy people alone. You buy methodologies, tools and technology that support the efficient delivery of this IT service and the knowledge gained over a period of time, the best practices we have tailored for an individual company."
Although China had already become the second largest offshore-outsourcing vendor globally in terms of contracted volume in the first half of this year, Qian Fangli said she wasn't optimistic the country could catch up with India in the short term.
More than 90 percent of the outsourcing companies in China are small enterprises and only 22 of them executed more than $100 million offshore contracts in 2011. In comparison, India had 86 companies of such a scale early in 2009, among which nine reported more than $1 billion in annual output.
"Indian companies are more recognized globally, not only on the technical side but also for their quality certifications," said Ren Hongbin, a senior researcher with the Chinese Academy of International Trade and Economic Cooperation.
There are more than 100 Indian companies that have reached level four or above in what is known as the Capability Maturity Model, a universal evaluation standard for software makers. Fewer than 20 Chinese companies have garnered such an accolade.
According to Ren, US companies won't even consider awarding a contract to an outsourcing company below CMM3. Level five is the highest.
Chinese companies started receiving global work only in recent years and have the disadvantage of language barriers so their business is still at the lower end of the industrial chain, Qian said.
However, she said, domestic companies may find opportunities with the reform of China's financial system.
Opportunities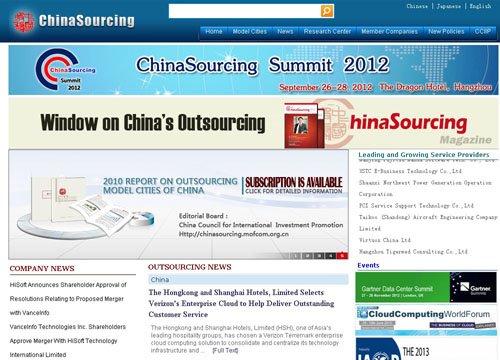 The website of Chinasourcing.org.cn run by the Ministry of Commerce and the China Council for International Investment Promotion. The website shows the government's support for the country's outsourcing businesses, which saw a boom in both their revenues and the number of employees. The more people the companies employed, the more revenues they earned. However, their production costs increased at the same time. [Photo/China Daily] 
The total assets of China's banking system expanded 478 percent in the last decade to 113 trillion yuan. It contributed to one-third of the total profits in the global banking sector, said Jin Shihe, deputy director of the China Outsourcing Institute.
However, he said, the current financial outsourcing market in China is only 15 billion yuan a year, which accounts for a mere 0.2 percent of the $1.2 trillion global financial outsourcing market.
The expenditure on outsourcing remains low among Chinese banks. In 2008, outsourcing only cost 0.5 percent of the spending for Chinese financial institutions, whereas in the US the proportion was 7.4 percent and still growing.
Although the potential remains huge, it is not easy for vendors to cash in on the opportunities because big banks need to be convinced about outsourcing their core data processing out of safety concerns and also because they do not need to cut costs.
"The big financial institutions are investing more and more in IT development. They still have an adequate profit margin to build their own teams to avoid the potential risks in outsourcing," said Chen Hao, a senior IT officer with Bank of China.
There may be bigger opportunities with smaller banks, such as the increasing number of village banks that emerged after recent financial reform.
"As a bank still in its early growth stage, we like to have all of our business processes outsourced," said Song Guangcai, chairman of Jiangdu Jiyin Village Bank, which has only been established for 20 months and has a relatively small 800 million yuan in assets.
"For example, labor costs could account for 21 percent of our total costs but the cost for outsourcing will never be higher than that level," he said.
Nevertheless, change may be afoot. "Reform toward a market-oriented interest rate have highlighted the importance for the banks to lower their costs, which offers greater opportunities for outsourcing companies," said Qian.
Qian's view was echoed by Li Rongcan, vice-minister of Commerce, who argued that outsourcing can create a win-win situation between banks and vendors.
"The Chinese economy has reached a vital stage in its transformation. It is inevitable the financial sector, as the pillar industry, will make structural changes," Li said when delivering a speech at the fourth China Banking, Financial Services and Insurance Outsourcing Summit held in Kunshang, Jiangsu province.
While urging banks to focus on their core business, Li also said outsourcing could help extend the value chain.
"New service models have appeared with the development of technologies such as cloud computing and the Internet of Things, which banks are not familiar with. Outsourcing companies could play a complementary role and guide the innovation of the industry," he said.
Zheng Yangpeng contributed to this story.
weitian@chinadaily.com.cn