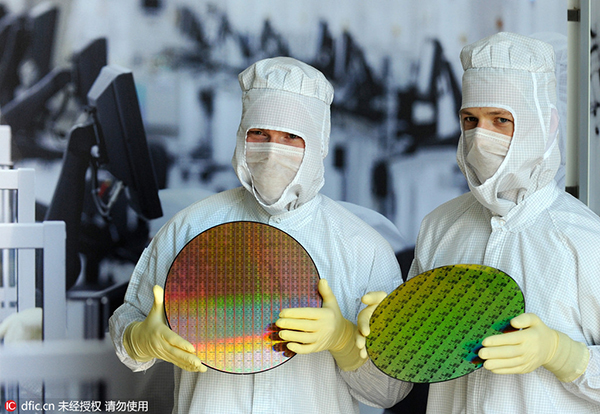 Two men present new wavers in 300 mm format by semiconductor producer Globalfoundries in Dresden, Germany, June 15, 2012. [Photo/IC]
CHONGQING - US semiconductor manufacturer Globalfoundries said this week that it had entered into a chip-making partnership with the government of Chongqing in southwest China.
The joint venture will utilize systems and processes used in Globalfoundries' Singapore plant to produce 300 mm chips. Production will kick off next year.
Chongqing is one of the world's largest manufacturing bases for computers, smartphones and other electronic devices, providing substantial demand for the joint venture.
"China is the fastest-growing semiconductor market in the world, with more than half of the world's semiconductor demand and a growing ecosystem of fabless companies competing on a global scale," Globalfoundries CEO Sanjay Jha said in a press release.
Semiconductors are one of several high-tech industries the government is increasing support for, as part of a wider effort to steer the vast manufacturing sector away from low-end to high-value added, tech-intensive production.
China has been the world's biggest consumer of semiconductors for years and wants to reduce its reliance of imported chips. Domestic chip designers and foundries have been encouraged to enhance their chip making capabilities through acquisitions or joint ventures with overseas firms.