Chinese maritime authorities have pledged to push forward cooperation in maritime search and rescue operations with their counterparts from members of the Association of Southeast Asian Nations, according to maritime officials.
The Maritime Safety Administration, or MSA, has been actively promoting and pursuing closer ties with maritime institutions in ASEAN countries in maritime search and rescue, but given the current situation, the administration needs more time before it can create a comprehensive mechanism, officials with the administration told China Daily.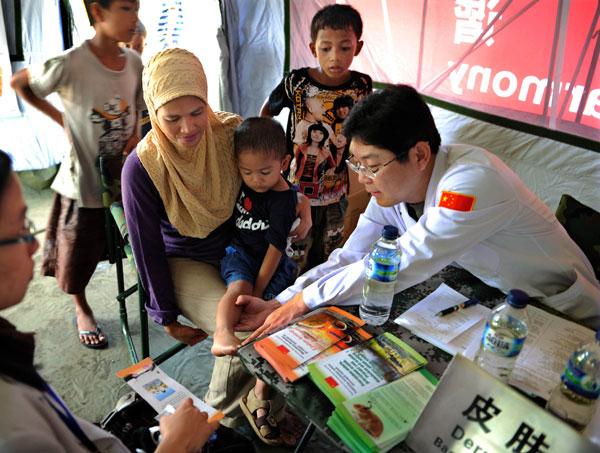 A Chinese doctor checks the leg of an Indonesian child during a disaster relief exercise in Manado, Indonesia, on March 16, 2011. Chen Xiaowei / Xinhua
The officials spoke on the sidelines of the 8th Meeting on the ASEAN-China Maritime Consultation Mechanism, held in Zhuhai, Guangdong province.
From October 2011 to September 2012, Chinese maritime safety authorities responded to 17 requests for help from ships registered in five ASEAN countries, including Vietnam, Singapore and Malaysia, according to the MSA.
More than half of the requests came from Vietnamese vessels, whose country shares a vast area of the South China Sea with China.
During the same period, the China Maritime Search and Rescue Center and its local branches received 2,565 emergency alerts and conducted more than 2,000 SAR operations. Nearly 1,600 ships were retrieved, and more than 17,500 people rescued.
Chinese officials picked Vietnam as a good example of how China has gradually strengthened its maritime SAR cooperation with other countries.
Since a maritime SAR cooperation agreement concerning a sea route linking China's Fangcheng Port and the Ha Long Bay in Vietnam was inked in 2003, maritime departments in the two countries have jointed hands in 15 maritime SAR operations that saved 93 lives, said Shen Chunsheng, deputy director of the maritime safety administration in the Guangxi Zhuang autonomous region.
Guangxi is the only Chinese provincial-level region that shares both land borders and maritime boundaries with Vietnam.
On Aug 28, the Guangxi Maritime Search and Rescue Center and Vietnam Maritime Search and Rescue Coordination Center jointly carried out a drill to exercise emergency-response communications, which is among a small number of such drills between China and ASEAN countries.
The drill set seven scenarios involving emergency reporting, rescue coordination and remote medical treatment, and effectively improved the two sides' cooperation in maritime SAR, according to Shen.
The two sides also have shown good will to each other by providing assistance to people trapped in other's territorial waters in a timely manner, he said, citing some recent cases.
Eight Vietnamese sailors were rescued on Monday by the Chinese maritime authority after the Vietnamese cargo ship sank off the Fangcheng Port in Guangxi amid typhoon Son-Tinh. Ten of their peers were previously saved on Oct 21 by Chinese water police officers from another capsized cargo ship.
Also in October, China sent a ship to the Bach Long Vi Island, which is under Vietnam's jurisdiction, to take back three Chinese fishermen who were rescued by Vietnamese fishermen and then took care of by Vietnamese maritime officers after their ship capsized.
"The two sides are still exploring new ways to deepen maritime SAR cooperation. The Guangxi Maritime Search and Rescue Center has been discussing with Vietnamese maritime authorities the possibility of setting up a regular communication mechanism," Shen said.
Phan Nguyen Hai Ha, deputy director of the international cooperation department under the Vietnam Maritime Administration, said at the meeting that Vietnam is grateful for the Guangxi center's rescuing its citizens and is willing to increase its cooperation with China in maritime SAR operations.
Though achievements have been reached, there is still plenty of room for improvement between China and Vietnam in maritime SAR cooperation, Shen said. He mentioned some problems that need work, such as inadequate communications, a shortage of SAR professionals, and occasionally slow responses to emergencies.
The two sides will take more measures to create a better cooperative relationship, he added.
In addition to Vietnam, representatives from other countries also expressed interest in increasing their cooperation with China in maritime issues.
"I think this meeting is very important for ASEAN countries and China to enhance their cooperation in maritime issues," Nhem Savong, deputy director of merchant marine department in Cambodia's Ministry of Public Works and Transport, told China Daily on Wednesday.
"We can get experience from China (through such meetings), and also China can assist ASEAN countries in some maritime sectors so that we can improve."
Baharin Abdul Hamid, deputy director general of Marine Department of Malaysia, agreed. "This meeting is very informative. From here we can see the development within the ASEAN region and China in fields such as the safety of ships. We believe this forum will foster closer ties with China in terms of maritime cooperation," he said.
zhaolei@chinadaily.com.cn