The Bangkok-based Chia Tai Group plans to redirect more of its agricultural investment from China to Association of Southeast Asian Nations, or ASEAN, countries, which tend to have lower labor costs and land prices.
The company's agricultural businesses export processed-food and farm products to European Union countries and the United States.
"Labor costs in ASEAN countries are 30 percent lower than in China, and land prices are 50 percent lower on average," said Luo Xing, executive of the Guangxi unit of Chia Tai Group's agro-industry business.
He said the company is investing heavily in Vietnam and other ASEAN countries.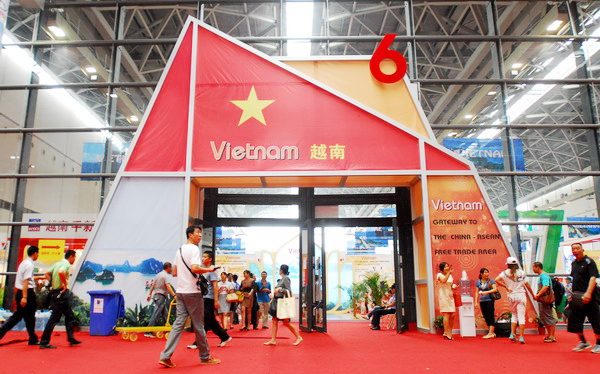 Vietnam's booth at the China-ASEAN Expo in Nanning, the capital of the Guangxi Zhuang autonomous region. Businesses have been investing heavily in Southeast Asian nations, where labor costs and land prices are lower compared with China. [Photo/China Daily] 
Chia Tai Group is one of many international companies that have shifted some of their manufacturing business from China to neighboring countries in Southeast Asia in recent years. Worries about that shift have generally taken a back seat at the ninth China-ASEAN Expo, which concluded on Tuesday in Nanning, the capital of the Guangxi Zhuang autonomous region, giving place to a belief that China and ASEAN countries will cooperate more.
"There is a lot of room and potential for industrial cooperation," Su Bo, vice-minister of the Ministry of Industry and Information Technology, said at the China-ASEAN advanced-manufacturing development forum in Nanning on Saturday.
ASEAN countries are rich in oil and gas resources and are home to many rubber plantations. In 2011, China imported $39.7 billion worth of fossil fuels and rubber products from them.
The same year, ASEAN countries became China's fourth-largest market for exports of mechanical and electronic products, and the fifth-largest source of imports for China. The countries have also become an important destination for Chinese investments into the textile garment, toy, footwear and daily necessity industries.
In recent years, the value of trade and investment between China and the ASEAN has increased rapidly, going up 5.6 fold in the past decade. It reached $326.85 billion in 2011.
Cham Prasidh, Cambodian senior minister and minister of commerce, said he has issued many licenses to people who want to invest in his country.
"I've given licenses to two garment factories a week," he said. "That shows how quickly the Chinese are investing in Cambodia. We can compete with our labor costs, as well as with the duty-free policies we have with many countries."
Chen Jiagui, director of the Chinese Academy of Social Sciences' economic department, said China is still industrializing and is thus seeing an inevitable rise in labor costs and land prices.
Per capita GDP in ASEAN countries is now only $3,000 a month, which provides a notion of the benefits that can be accrued by transferring industries to those places, he said.
In China and ASEAN member countries, the highest per capita monthly wages that are paid amount to more than $4,000 and the lowest to only $100.
Industries have yet another reason for moving to ASEAN countries. That is the desire that certain European countries and the United States have to see more products manufactured in places other than China, with which they are trying to have more-balanced trade.
wangzhuoqiong@chinadaily.com.cn