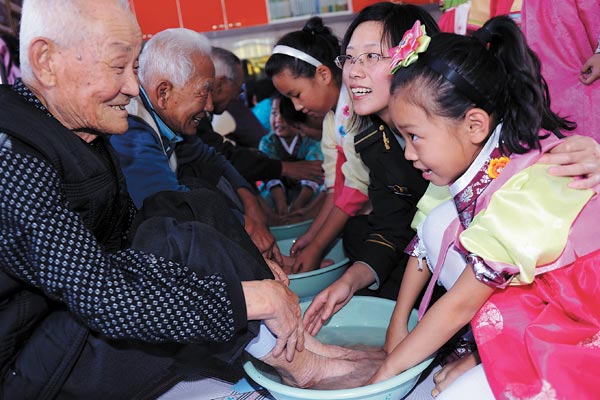 Washing feet is a traditional way of displaying filial piety as students from the Korean ethnic group showed in Tumen, Jilin province, on Monday, the eve of the Chongyang Festival. The event celebrates the elderly and offers an opportunity to pay them respect. Lin Hong / Xinhua
The path China chooses to follow in dealing with the challenges of an aging population could prove a route for other developing nations, a population expert with the United Nations said on Monday.
"China has the largest population in the world and it is the only country in the world with close to 200 million people aged 60 years or over," Arie Hoekman, the UN Population Fund's China representative, said in an interview.
Aging populations are a significant aspect of the 21st century and has important and far-reaching implications for all sectors of society, he said.
A report by the UN and HelpAge International, a UK-based organization, predicts the world's population of over-60s will reach 2 billion by 2050, with 80 percent living in what are now considered developing nations.
According to China's National Committee on Aging, China's elderly already make up 22 percent of the world's elderly population, and it is expected to increase to 26 percent by the end of 2050.
"China is trying to build a social security network for its ageing population when its GDP per capita is $5,400, so China could be setting a model for other countries to learn and follow," Hoekman said.
However, the challenge created by an aging population is to "add life to years, not just years to life", he said.
An aging population means an increasing demand for income security, health and long-term care, creating huge social, economic and cultural challenges that need to be addressed with strong political will and appropriate forward-looking policies, he said.
China, as the most populous country in the world, will see its number and proportion of elderly increase at an accelerating pace over the coming decades, much faster than the pace experienced by many countries, Hoekman said.
"As a consequence," he added, "China will have less time to put in place all the complex policies and strategies meant to respond properly to challenges and opportunities posed by an aging society''.
Chen Chuanshu, standing vice-president of the China National Committee on Aging, said the country will face "the dual burdens of providing welfare benefits for hundreds of millions of senior people while maintaining economic growth" for a long time to come.
He was speaking at a symposium on aging in the 21st century, held by the committee, the UN Population Fund and HelpAge International on Monday in Beijing. The seminar was held a day before a Chinese festival celebrating the elderly.
China's aging population will also become the most pressing among the five BRICS countries - Brazil, Russia, India, China and South Africa - by the end of 2050, said Du Peng, director of Renmin University of China's Institute of Gerontology.
"Population ageing will definitely affect China's national competitiveness," he said.
"The financial burden of paying more pensions while less people work will slow economic growth, while the decrease in the number of working-age people may also lead to a sharp rise in labor costs."
Hoekman disagreed, however, arguing that a country's competitiveness does not rely on "muscle power" in the era of the knowledge economy.
He suggested China invest more in providing education to guide citizens to adopt healthy lifestyles and build up a sound healthcare system to improve the quality of its population and to help people age gracefully.
Challenges always come with opportunities in terms of an aging population, said Eduardo Klien, a regional director for HelpAge International.
He urged China "to create a pathway to transform seniors to become growth drivers and value creators".
"Older people make massive contributions to society as workers, mediators, educators, volunteers, homemakers, caregivers in addition to being sources of knowledge and guardians of culture".
When asked about whether China should increase the retirement age, Hoekman said "it is not a question that China has to answer right now", given that there is a surplus of labor in the country.
"Rather than say everybody has to work, I'd like to see more flexible working ages in the future," he added.
Contact the writer at hedan@chinadaily.com.cn