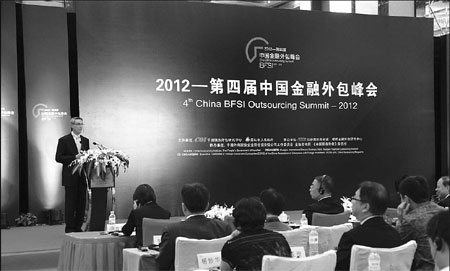 David Potterton, vice-president of the International Data Corporation, makes a speech at the 2012 China Financial Outsourcing Summit. Provided To China Daily
The fourth China Financial Outsourcing Summit on Oct 16 in Kunshan, Jiangsu province drew experts from across the nation to explore the industry's options in the post-financial crisis era.
More than 200 participants including experts from the country's financial watchdogs and industry representatives discussed financial service outsourcing around the world and the industry's latest developments in China.
Organized by the China Service Outsourcing Research Center and the Kunshan city government, the summit was held as more and more financial institutions shift their focus to service outsourcing, according to the organizing committee.
As a result of the lingering financial crisis and China's reform of its financial market, service outsourcing has begun to account for an increasing proportion of the country's financial business, the organizers said.
With rapid development of offshore sourcing and business-process outsourcing, financial services are also gaining momentum in the international market.
It is expected to become another pillar in the market following IT service outsourcing, according to experts at the summit.
In addition, new developments like cloud computing, mobile Internet and Internet-based finance are also helping extend the scope of the sector, the experts said.
Recognizing the development trends, many cities across the nation have stepped up efforts to improve local infrastructure to boost financial service businesses.
The summit's host city of Kunshan "is an outstanding example", said an official of the event's organizing committee.
For the past few years, the Kunshan government has been working hard to make its Huaqiao International Service Business Park a major base for financial service outsourcing in China.
The park, a provincial-level zone in Jiangsu province for modern services, is now home to a range of facilities that specialize in financial business process outsourcing, mutual funds and other financial services.
The developed infrastructure coupled with favorable policies has turned the park into a magnet for companies in the sector, including Capgemini, one of the world's top counseling and outsourcing service providers, as well as Centrim Data and GDS Services, both leading information providers in the country.
The presence of such outsourcing giants has in turn helped create a close industrial cluster, attracting more companies in the industry to establish operations in the park , said an official at the park's administrative committee
A major portal of service outsourcing industry in China, chnsourcing.com.cn, listed the park in the top 10 in the nation for three straight years.
Contact the writer at lifusheng@chinadaily.com.cn.