Sept 20 was a big day for H&M, the Swedish multinational retail-clothing company.
While celebrating the opening of its 100th Chinese store in Nanning, capital of the Guangxi Zhuang autonomous region, it opened its first store in Kuala Lumpur, Malaysia.
Established in 1947, H & M Hennes & Mauritz AB (operating as H&M) is known for its range of clothing.
In terms of revenue it ranks second globally behind Spain-based Inditex, parent company of the clothing brand Zara. It is followed by US clothing brand Gap.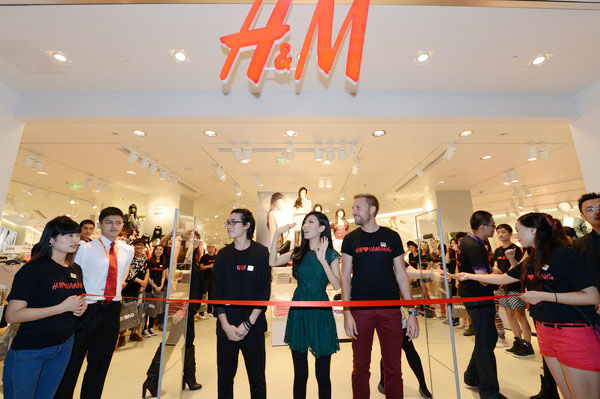 H&M's 100th Chinese store opens in Nanning, capital of the Guangxi Zhuang autonomous region, Sept 20, 2012. [Photo / China Daily]
As of the end of August, the company operated in 45 countries with more than 2,629 stores.
According to its interim report, released in July, during the first half of the financial year revenue generated by H&M increased by 12 percent year-on-year.
The Swedish brand has been expanding quickly since its entry into China in 2007. It is not able to release its Asian sales figures, due to company regulations, but Karl-Johan Persson, CEO of H&M, indicated that China is the fastest growing market in terms of store numbers.
Persson is the son of chairman Stefan Persson and grandson of Erling Persson, the founder of H&M.
Persson founded H&M in 1947 after visiting the US where he was inspired by a store selling low-priced clothes.
Unlike the famous European brands which usually belong to the premium group, H&M sells a philosophy, as Persson puts it. He terms this "democratic fashion".
"We create democratic fashion, and we want to sell to all," he said.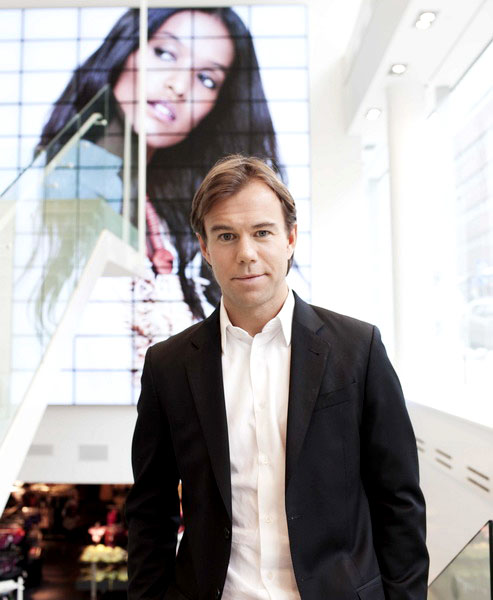 Karl-Johan Persson says H&M's concept of fashion caters to all styles and has huge potential in China. [Photo / China Daily]
This principle is reflected in the design and style of the garments - from basics to exaggerating designer series, and from plain shirts to colorful dresses.
Although loose and oversized garments often give Chinese shoppers the illusion that this is a typical "European style", Persson said that "European element" is not the selling point of H&M, at least it is not what the company intended.
"The company is founded in Sweden, so there is certain amount of 'Swedishness' in this brand, but we don't want to stress our nationality to customers," he said.
The brand does some local adaptation from time to time, but generally, 80 percent of products are the same globally.
"Take the new Malaysian store for example. Of course we refer to our experiences in other hot countries like Singapore, and as you can see, there are not as many thick clothes or down coats in these places as in Sweden," Persson said. "But in terms of other adaptations, we make them along the way as we operate the store."