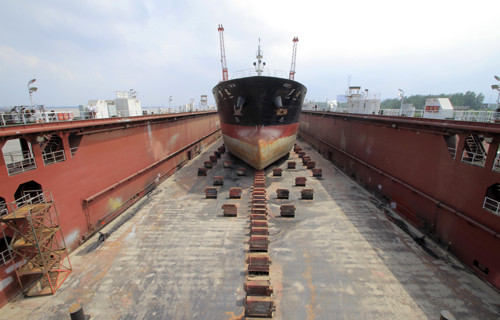 A vessel undergoes repairs at a shipyard in Nanjing, Jiangsu province. A growing number of Chinese shipbuilders are now refusing to take orders and have suspended production, while some smaller shipyards have gone bankrupt. [Photo/China Daily]
Given the difficult world shipping market and weak growth in global demand, it is hardly surprising that Chinese shipyards find themselves at their lowest ebb since the last order boom of 2007.
According to industry analysts, a considerable number of the country's small shipyards are teetering on the verge of bankruptcy - in fact, many now believe that just the largest 300 out of the country's current total of more than 3,400 shipyards are likely to survive the current downturn, which could still last another three years.
The latest industry data illustrates just what a dilemma is being faced by many in the sector.
According to the China Association of the National Shipbuilding Industry, during the first seven months of this year, finished capacity at Chinese shipyards dropped by 7.7 percent from last year to 35.49 million deadweight tons.
Total new orders stood at 11.64 million deadweight tons, a dramatic 50.7 percent drop compared with the same period last year.
And the current order book amounted to 123.5 million deadweight tons, a 29.9 percent decline from last year, according to the association.
But this is not just a problem for China's shipbuilding industry. Clarksons Plc, the global shipping services provider, has estimated that by the end of August, the global shipbuilding order book had dropped to 96.36 million compensated gross tons, the lowest reading since May 2005.
It said that shipowners remain reluctant to place new orders, especially with South Korean shipyards - recognized around the world for their levels of advanced technology and sophisticated systems - declining to this year's lowest point in August.
"Last year there was still demand for more sophisticated vessels. This year, market demand is weak for all kinds of vessels," said Sun Bo, a senior executive with China Shipbuilding Industry Corp, one of the country's major shipbuilding conglomerates.
In the meantime, new building prices have also plummeted to the lowest level since March 2004, and are now a third of what they were at the peak reached in August 2008, according to Clarksons.
Pressured by the low prices, a growing number of Chinese shipbuilders are now refusing to take orders and have suspended production, while some smaller shipyards have gone bankrupt.
"The market will be even more difficult at the beginning of next year," added Sun. "A recovery is unlikely to happen within the next three years, and only big shipyards with strong order books are likely to survive."
The bigger players such as China Shipbuilding have been trying to manage the risk by tapping into the manufacturing of marine engineering equipment, and analysts suggest the boom in offshore drilling activities represents the most lucrative sector for the industry.
"To survive this difficult market, Chinese shipbuilders, faced with falling demand, should focus on adjusting their product structure," said Wang Jinlian, secretary-general of China Association of the National Shipbuilding Industry.
However, as the industry's woes deepen, shipyards are also facing the added pressure of tougher loan conditions being imposed on them by banks, with many finding it increasingly difficult to secure much-needed funding.
Zhang Guangqin, chairman of the association, has called on the banking sector to support the country's major shipbuilders, particularly with finance to secure orders from foreign ship operators and owners.
"The industry's overcapacity is not as serious as many in the market think," Zhang said.
"Although quite a number of our small shipyards have stopped taking orders since 2009, many of our big shipyards are very competitive, especially in the international market."