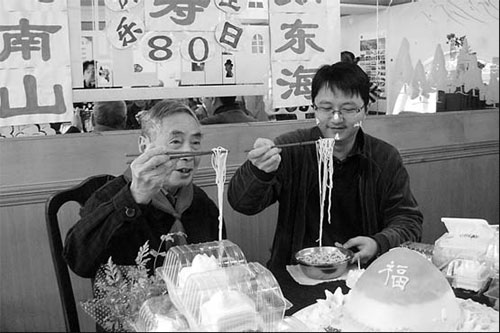 Gu Lin organizes a birthday party for an elderly person at a Shanghai old folk's home. Provided to China Daily
Hu Wengen is an 82-year-old woman in Shanghai who dreamed of holding a solo concert.
Her dream came true recently with the help of a local volunteer organization when she stood on stage in front of some red curtains, with a desk light and old-fashioned recorder, as dozens of her fans watched.
While care services for the elderly focus mainly on improving physical health and welfare, one man is more concerned with their emotional wellbeing.
Gu Lin, 31, is the founder of Shanghai Elderly Care Volunteering Organization, an NGO established in 2010 to provide mental care to the aged, in addition to meeting their physical needs.
"We want to provide some supplementary services for them - more happiness," says Gu, who has been organizing fun activities under the name "Old Baby Club".
Gu used to serve in a telecommunication related company as a project manager, which included going to old people's homes.
"I got tired of my old job, and I enjoy talking to the aged," he says.
Gu quit his job and started to focus on providing care services for the elderly in 2008.
The entire family was against his decision at that time, but has now become "not against" the idea, Gu comments.
From 2008 to 2010, before Gu registered for an NGO license, he earned nothing but spent more than 100,000 yuan of his savings. He currently earns about 1,000 yuan ($159) a month by running various elderly care projects assigned by district authorities.
The Old Baby Club is supported by the district office of Changshou Road, Putuo district, Gu confirms.
In 2011, Gu organized more than 200 activities for about 4,000 elderly people in the city's old folk's homes, along with his three volunteers.
Instead of regular volunteer workers, Gu prefers them to have specialist knowledge or skills so they can provide additional services.
Many of the elderly have dental problems so Gu invited volunteers from Shanghai Tongji University to give advice on dental care. For those who have poor eyesight, Gu calls on specialist volunteers in the field. "This is what we call a 'menu care system'. We give them what they want."
In Gu's opinion, the elderly have constructed fixed views of the world.
"We cannot change anything, thus we must focus on their real needs, to find out what are their true interests."
As an example he points to the 82-year-old Hu Wengen, who had told him she loved singing and dreamed of giving a performance on stage.
"Helping the elderly to realize their dreams is my dream," Gu says.
lixinzhu@chinadaily.com.cn
(China Daily 08/23/2012 page20)