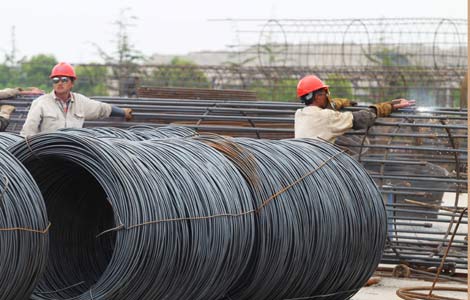 Steel products at a construction site in Nantong, Jiangsu province. China's manufacturing and real estate industries currently remain weak, leading to lower steel consumption. [Photo / China Daily]
China's steel industry, already experiencing a big drop in profits since the turn of the year, will continue to face a downturn in the second half, as demand remains gloomy and an overcapacity of steel continues, according to a leading industry expert.
Zhang Lin, senior researcher at the Lange Steel Information Research Center, said despite government efforts at accelerating the approval of a series of infrastructure construction projects in May, the steel industry will remain firmly in the doldrums for the foreseeable future.
She explained that demand will remain depressed and steel prices will stay low for a while - maybe even drop slightly in coming months - because of the long investment cycle of the planned projects.
China's manufacturing and real estate industries remain weak, leading to lower steel consumption.
The country produced 296.26 million metric tons of crude steel during the first five months of the year, 6.4 million tons more than in the same period last year and 2.2 percent growth year-on-year, according to the China Iron and Steel Association.
The association predicted the average daily output of crude steel in June would be around 1.97 million tons, down 1.4 percent compared with the previous month but still at a high level.
Zhang said the contradiction between increasing steel output and shrinking demand will lead to high steel inventories, pushing down prices.
The nation's total steel products inventory reached 15.63 million tons on June 29, 69,600 tons more than the week before, according to market monitoring by the center. The inventories have now been increasing for three successive weeks.
The weak market for Chinese steel has depressed the demand for fuel, particularly coal and iron ore, leading to record high port inventories and falling prices of both, said Chen Kexin, an analyst at the center.
According to official figures, coal stocks at Qinhuangdao, the largest coal trading port in China, swelled to 9.46 million tons on June 18, the highest level since the outbreak of the 2008 financial crisis.
China's iron ore inventories at ports increased 2.9 percent to 98.15 million tons last week from 95.35 million tons in April, according to Shanghai Steelhome Information.
Zhang said about 70 percent of the stockpiles are owned by steelmakers.
China imported 58.31 million tons of iron ore in June, an 8.7 percent drop from the previous month, the General Administration of Customs said on Tuesday. The country's iron ore imports in the first six months increased 9.7 percent from a year earlier to 366.2 million tons.
Chen estimated that if macroeconomic policies cannot effectively adjust to the current situation, China's economy will suffer a "hard landing", which will seriously affect the commodities market.
He predicted that imported iron ore prices will fall to around $100 a ton and international oil prices will fall to under $70 a barrel in the second half of this year.
"Chinese companies should be prepared for a worse situation and risks," he said.
Meanwhile, other commodities, including nonferrous metals, rubber and oil, will also suffer falling demand and prices in the second half, he said.
According to customs figures, China imported 346,223 tons of refined copper, alloy and products in June, a 73,500 ton reduction compared with the previous month, or a drop of 17.51 percent, the lowest level in the past 10 months.
China cut interest rates twice in the past month and commercial banks' reserve requirements three times this year, as inflation eased to a 29-month low in June.
Wang Guoqing, deputy director of the Lange research center, said he expects the government to carry out more incentive policies to boost the economy in coming months, and for the steel industry to bottom out in July.
But she added that she thought the current policies will help the real estate industry rebound, which can help rebuild investors' confidence.
Steel producers such as Baosteel Group Corp, Wuhan Iron and Steel Group Corp and Shagang Group Corp cut their product prices in July.
China's steel companies, which registered deficits during the first five months of the year, had a total loss of 11.75 billion yuan, about 27 times more than at the same period last year, according to the China Steel and Iron Association.
Large and medium-scale steel companies in the country delivered a profit of 2.53 billion yuan during the first five months, down 94.26 percent year-on-year.
dujuan@chinadaily.com.cn