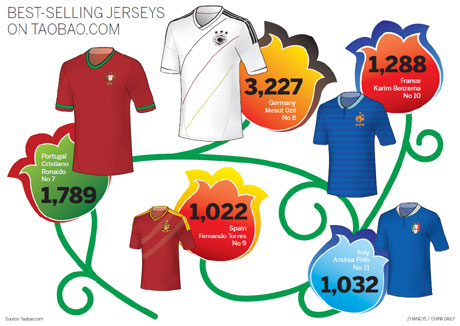 Championship sparks roaring trade in beer, flags, kits and trophies
Despite the time difference between China and Europe, Chinese online businesses were abuzz about Italy's tight defense against Spain in the early hours of Monday morning in the Euro 2012 championship as die-hard football fans stayed up late for the match.
"The results might determine which national flag we should keep more of in stock," said Xie Hui, an online vendor on Taobao.com, a popular customer-to-customer site in China.
As fans all over the world celebrate the championship in a great global party, e-commerce retailers are embracing the football spirit, doing a roaring trade in colorful national flags, kits and trophies.
Xie's online store is an array of tournament merchandise, ranging from classy to kitschy, and from cheap to cheekily expensive.
The mantra, according to Xie, is: if you cannot get to a Euro 2012 game in person, you can now get a flavor of the world's top competition via my website.
"Anything with a number 7 on it is selling like hot cakes," he said referring to the shirt worn by Portuguese star Cristiano Ronaldo.
"Every time we replenish the stock, the next morning we're sold out by 11 am," he said.
The term "European Cup" was firmly on Taobao's list of "hot topics" by Monday, with the search term showing up more than 54,000 times.
The search frequency rocketed in popularity six times compared with just a month ago, said Wang Ying, a public relations officer with the company.
Sales of football kits across the Web have rocketed, as avid fans tend to wear the same jerseys as their favorite teams.
Kits for the Spanish team have been the biggest seller, with more than 5,000 being sold in the past month, according to Taobao. Sales of German, Italian, French and Portuguese kits all topped 3,000.
Right before the tournament, Qian An, a football fan of more than 20 years, welcomed the big event with a reclining chair he purchased online.
"I have wooden sofa in my house, but a reclining chair will be more comfortable when watching the game at midnight," he said.
Qian, who is supporting Germany in the championship, took a photo of his new chair costing 1,200 yuan ($188) and posted it on his micro blog.
Many parts of Shanghai remained alive with the chinking sound of glasses and cheering until the early hours of Monday morning.
It would seem that the beer culture which developed during the 2010 World Cup is set to get even bigger, said football fan Zou Tianliang.
Zou is enamored with the beverage and plans to shop online. His enthusiasm stems from an affection for the drink and a desire to get discounted goods online, he said.
Pinlive, a beer and snacks retailer on Tmall.com, China's biggest business-to-consumer website, saw its beer sales surge as the event drew near.
It started a promotion for the tournament two weeks ago by selling beer at discounts of 20 to 30 percent, said Robin Yue, who is responsible for operating Pinlive's online store.
He said that Pinlive's beer sales over the past two weeks were up to five times the normal level.
Yihaodian.com, a leading Chinese online supermarket in which the US retail giant Wal-Mart Stores Inc has a stake, has also joined the fray. Its recent partnership with Jiuxian.com, an e-seller of wines, has won it a competitive edge in online alcohol sales.
Since the tournament kicked off, daily orders for beverages and snacks have steadily climbed, said a company statement.
Yihaodian also enticed customers by interacting with buyers via micro blogs and video-sharing sites, and is considering night food deliveries to meet soaring demands during the three-week-long gala.
"Beer is an indispensable part of the soccer culture. I might go to the pub for the final," Zou said.
Foosball, also known as table football, until recently a rarity in China, has grown in popularity among online buyers, including the many bars across the country.
Over 20,000 foosball sets were sold on Taobao in May. An online merchant from Guangdong province sold more than 300 sets, priced between 105 and 118 yuan.
Foosball has become a game-changer for many bars.
"Customer flow has jumped by five times, and most were immediately attracted to the gadgets," said Zhang Na, sales manager of O'Malley's Irish Pub in Shanghai.
Contact the writers at hewei@chinadaily.com.cn and chenlimin@chinadaily.com.cn