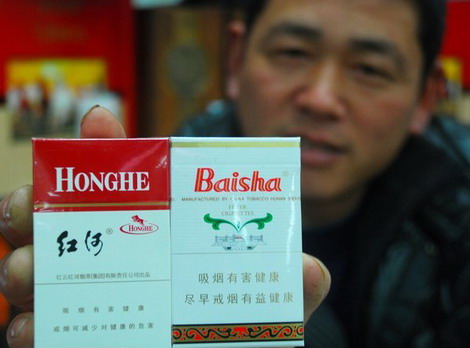 A tobacco dealer shows the new cigarette package (right) with larger health warnings compared with the old package (left) in Taizhou, Zhejiang province, April 1, 2012. [Photo / CFP]
Cigarette packages will now be displaying larger health warnings, part of government efforts to discourage smoking.
A casual visit by China Daily reporters to two tobacco stores in Beijing discovered both new and old packs on sale.
"Some tobacco producers changed to packs with larger warning marks, others were still supplying the old packs last month," said a tobacco dealer who refused to be named.
The new packaging standard replaced English warnings with Chinese ones, and requires the Chinese characters to be no smaller than 4 millimeters on cigarette cases and no smaller than 6.5 mm on cigarette cartons.
However, tobacco control activist Wu Yiqun did not find the new rule having any positive effects on tobacco control.
"Using the current warning, it won't work even if you enlarge the words 100 times," Wu said.
The warning reads: "Smoking is harmful to your health. Quit smoking reduces health risk".
"The warning does not include any information indicating to which degree smoking damages people's health. It should be 'smoking causes lung cancer', or 'smoking causes congenital deformity', as such information makes people think," Wu said.
Wu also urged adding pictures of diseased tissue to cigarette cases, which she called "the most economic and effective way of tobacco control".
Sun Shixing, a smoker, said he doesn't look at the warnings at all.
"I know smoking harms my health, but so many people smoke while remaining healthy. On the other hand, since we are consuming so much poisonous stuff, like excessive pesticides, quitting smoking won't evidently change the condition of my health," Sun said.
Forty-two countries worldwide stipulate that pictures should be printed on cigarette cases. Meanwhile, more than 75 percent of Chinese people have no idea about the top three diseases caused by smoking - lung cancer, coronary heart disease and respiratory sickness, according to an earlier report.
"Adding scary pictures would certainly hit the market for expensive tobacco, which has been regarded as a luxury gift, for you cannot give a carton of cigarettes with a cankered lung on it," Wu said.
In 2011, China's tobacco industry paid more than 752 billion yuan ($119 billion) in taxes and handed over more than 600 billion yuan to State coffers.
"That is why it is so difficult to promote picture warnings," Wu said. "Our government should reduce its dependence on tobacco taxes, and count the increasing medical burden brought about by smokers."
China has some 350 million smokers, more than one-third of the world's total. Every year about 1.2 million Chinese die from tobacco-related diseases, Deputy Minister of Health Huang Jiefu said last month.
At a chronic disease seminar held in Shanghai on Saturday, Health Minister Chen Zhu revealed that the ministry is planning to include smoking cessation counseling into the basic service system, and will provide coverage to drugs that reduce dependence on smoking.
chengyingqi@chinadaily.com.cn