State of the industry reflected by Shenzhen high-tech fair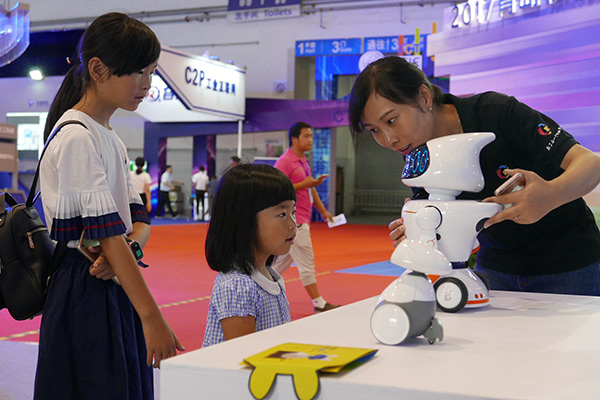 Two young visitors are mesmerized by a robot made by Tencent Holdings Ltd at a high-tech expo in Qingdao, Shandong province. XIE HAO / FOR CHINA DAILY
SHENZHEN-Hong Kong-listed Tencent Holdings Ltd climbed 4.12 percent on Monday to HK$420 ($53.8) per share, making the internet giant Asia's largest company by market value.
The mainland juggernaut's fiscal report, released on Wednesday, showed third-quarter revenue rocketed up 61 percent year-on-year to 65 billion yuan ($9.8 billion).
The China Hi-Tech Fair (CHTF), China's largest high-tech fair, held annually in Shenzhen, where Tencent is based, has also witnessed spectacular growth since its days as a young startup.
In 1999, when Asia had yet to step out of the shadow of its financial crisis, the Shenzhen city government transformed a lychee agricultural trade festival into the CHTF, hoping technical innovation would help restore the economy.
Tencent, just one year old at that time, rented a booth to display its messaging tool OICQ, known for its penguin icon and for being a copycat of the early instant messaging client ICQ.
"To attract an audience, we prepared 1,000 penguin-shaped pots as gifts, which turned out to be very popular at the fair," said Chen Yidan, one of Tencent's founders. "We later sold them for 5 or 10 yuan each, with the sales income offsetting the booth rental."
In 2000, Tencent received its first round of investment of $2.2 million from two investors.
The penguin has grown into an internet mammoth with social networking, mobile payment, online music, games and live streaming services. It has also shifted from imitation to innovation.
Figures show Tencent filed more than 1,000 international patent applications under the Patent Cooperation Treaty (PCT) in 2013.
The company has also set up an artificial intelligence laboratory, eyeing success in the AI industry.
With its history of copying, then keeping up, and finally innovating, Tencent's development mirrors that of China in general.
The country has made innovative development the priority among its five development concepts. The report of the 19th National Congress of the Communist Party of China said innovation is the "first force" to drive development.
China has become the world's second-largest economy after 30 years of reform and opening up, contributing more than 30 percent of global economic growth.
As supply-side structural reform shifts the country's growth pattern, science and technological innovation has been contributing more and leading growth in many sectors.
At the ongoing 19th CHTF, nuclear giant China General Nuclear Power Group displayed robots for nuclear plant operations, including a radiation-resistant one that can climb through narrow spaces to take high-definition photos.
He Yu, chairman of the group, said the domestically developed robots have broken foreign monopolies, which will help reduce maintenance costs of nuclear power plants and increase safety.
At another pavilion, visitors tried on a "portable 3D cinema" device, which has a headset plus augmented reality, or AR, glasses.
With flexible sensors on the headset, users can play movies simply by touching and sliding the earphone.
The latest 4G version of the product won the Consumer Electronics Show 2018 prize in the United States earlier this month, and a former Wi-Fi version has been sold in more than 20 countries and regions.
"People will be able to have completely different interactions with machines through flexible products, as sensors will no longer be limited to a specific shape," said Liu Zihong, founder of the startup Royole.
China's science and technology innovation is also being recognized more widely in academic circles.
Statistics released by the Institute of Scientific and Technical Information of China last month showed papers from research fellows from 2007 to October 2017 had been cited 19.35 million times.
This was an increase of 29.9 percent compared with data collected in 2016, leading China into second place globally.