Chinese brands capture 25% of Russian smartphone market in Q2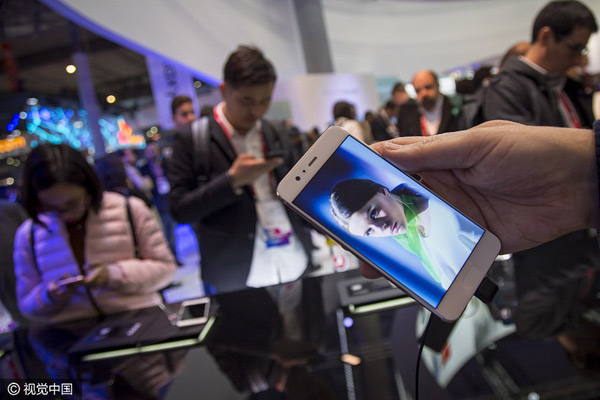 Visitors examine the Huawei P10 devices during the Mobile World Congress in Barcelona, Feb 27,2017.[Photo/VCG]
With more than 50 brands competing in the Russian market, Chinese brands control over 25 percent of the total smartphone market while share of Russian manufacturers dropped to single digits in Q2, according to a report by consultancy Counterpoint Research.
But the overall health of the Russian market isn't so rosy.The country's smartphone shipments fell 12 percent year-on-year in the second quarter of this year while they grew 2 percent sequentially,said the report.
Chinese smartphone brand Huawei took the third spot with 8 percent of Russia's smartphone shipments market share in the second quarter of this year,behind Samsung with 37 percent and Apple with 10 percent of the market during the same period.
While Samsung Electronics continued to be the market bellwether in the Q2 2017, Chinese smartphone vendors Xiaomi and Huawei became the fastest growing brands in the same period, according to the report.
"Xiaomi's go-to-market strategy involved expansion in both online & offline channels helped it to achieve growth within a year of its operations in the country," said Minakshi Sharma, research associate of Counterpoint.
During the second quarter of this year, about 25 percent of the Xiaomi sales came from online channels and the company is also planning to open offline stores in major cities of Russia in the coming year.
Huawei's growth can be attributed to its strong channel presence and promotional offers during the quarter, Sharma said.
Another Chinese company ZET ranked fifth with a 4 percent share of Russia's smartphone shipments market in the second quarter of this year.
In addition to taking large part of Russia's smartphone market, Chinese brands also grabbed over 50 percent of smartphone market share in Q2 in India.