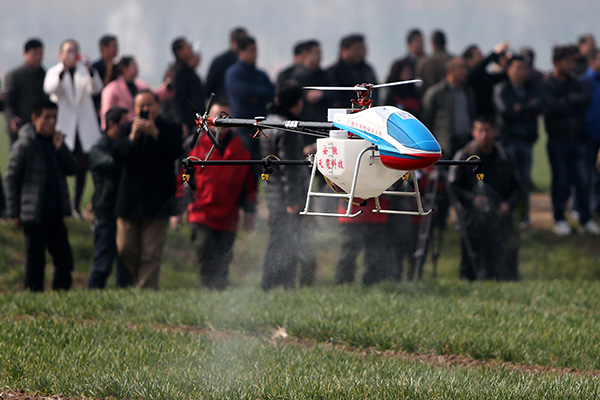 A drone for agricultural use on display in Anhui province. [Photo/China Daily]
China's state-of-the-art unmanned aerial vehicle (UAV), or drone, industry is winning the bulk of the global consumer drone market and the technology is expected to become increasingly useful in a wider range of fields in the future.
The nation's largest commercial drone manufacturer, DJI, launched two kinds of consumer-level UAV, at the Consumer Electronics Show in Las Vegas in January. Its products include the Phantom 3-4K-a new drone in its Phantom 3 series that enables ultra high-definition video shooting-and the Inspire 1 Pro black version, a camera-equipped drone.
Last November, the Shenzhen-based UAV manufacturer launched its first agricultural drone, the MG-1, which is designed for use in spraying pesticides.
Founded in 2006, DJI has about 70 percent of the world's consumer drone market. Its sales reached 400,000 units in 2014. A report in Forbes said the company has revenues of $500 million and a net profit of $120 million.
Most of its orders came from overseas markets, with domestic sales accounting for just 10 percent of the total in 2014.
Germany's Lufthansa signed a deal with DJI about a month ago to exploit the growing market for commercial drones capable of inspecting aircraft surfaces and monitoring wind farms.
According to a report issued by Analysys International, a Beijing-based consultancy company, the domestic civil drone market is expected to grow from 3.95 billion yuan ($600 million) this year to 11.09 billion yuan in 2018.
Civil drones are divided into consumer-level and industry-level equipment. Industry insiders say the current growth of the civil drone market is mainly coming from consumer-level drones, which are mainly used in the entertainment field for such things as aerial photography. They say the industry-level sector will end up being worth much more.
Ehang Inc, another Chinese drone maker, unveiled the world's first drone capable of carrying a human passenger at the Consumer Electronics Show.
It is possible for the drone to be charged in as little as two hours and it is capable of flying for 23 minutes just above sea level at a speed of 100 kilometers per hour, Ehang said.
The company hopes the drone can end up offering a greener alternative for commuters and will ease traffic jams.
Jean Xiao, an analyst from the market research company IDC, said China's civil drone industry is not mature and is still in the early stages of development, but noted that it has massive potential.
IDC estimates that sales of consumer-level drones are likely to increase to 3 million in 2019 from the 390,000 expected sales this year.
With advancement in drone technology and policy support from the government, drones are likely to be used in future in the fields of mineral exploration, traffic administration, disaster surveillance and agriculture, according to IDC.
However, problems still exist. She Shuanglin, a researcher at Analysys International said: "There are still no effective measures to manage and supervise the drone industry, including production standards, industry technology standards and market admission standards."
Although exports of domestic drone products make up a large percentage of total sales, the quality of drones varies greatly, said She, who suggested the government introduce industry standards as soon as possible.