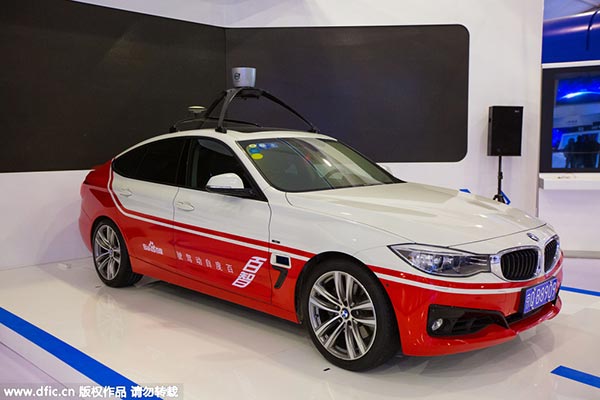 Baidu debuts its self-driving car at an expo in Wuzhen, East China's Zhejiang, Dec 14, 2015. [Photo/IC]
Chinese high-tech companies accelerate to make science fiction a reality
Self-driving cars may sound like science fiction but they are likely to be racing into our lives sooner than many people expect, thanks to the work of China's Internet and tech companies.
Baidu Inc, which has been dubbed the Chinese Google, is ramping up its research into autonomous driving technology and has the goal of putting self-driving cars on the road within three years.
Robin Li, chief executive officer of Baidu, said during a recent conference call after the online search giant published its financial report in late February that he sees great potential for autonomous driving in China because such technology could help reduce "pollution, traffic jams and the high fatality rate of car accidents in China".
Wang Jin, senior vice-president of Baidu and head of the company's new autonomous driving business unit, said a self-driving car is essentially no more than a robot with wheels.
"It will be able to see, listen, talk, think, make decisions and act," Wang said. "As cars are getting smarter, they already know the precise location of other cars. Eventually, they will be able to reduce traffic jams and improve driving safety."
Baidu, which has partnered with German premium car maker BMW AG in researching autonomous driving technology, successfully completed its first road test in Beijing in December.
In a recent e-mail interview with China Daily, the company said it has plans to increase the size of its test fleet and is in discussions with both domestic and international automakers.
Baidu is taking the most aggressive approach in China in pursuing this futuristic technology, but it is by no means the only player.
Internet giants Alibaba Group Holding and Tencent Holdings as well as tech firm LeEco Holdings Co have all teamed up with automobile makers to develop automotive expertise in an effort to broaden their reach beyond smartphones and computers.
Industry insiders say companies are convinced that cars are rapidly becoming key components of the so-called Internet of Things-the network of inter-connected computers, gadgets, appliances, furniture, machines and vehicles.
Yan Honghui, an analyst with the Beijing-based Internet consultancy company Analysys International, said many of the tech giants see cars as the ultimate "vehicle" to reach users.
"Imagine when you are in such a car and you get to your destination and it recommends nearby restaurants or cinemas tailored to your needs and helps you get discount coupons or select good seats," she said.
Despite the exciting future, analysts say the self-driving car industry is still taking shape and the technology remains under development.
Without giving a timetable for when such a car will be ready for the market, Nevijo Mance, a vice-president at BMW China, said steering wheels of cars will be replaced by computers, but not for a while.
"What we always say is that autonomous technology is, or will be, available earlier than the legal framework will allow for making such technology available to consumers," said Mance, who is in charge of research and development at the company.