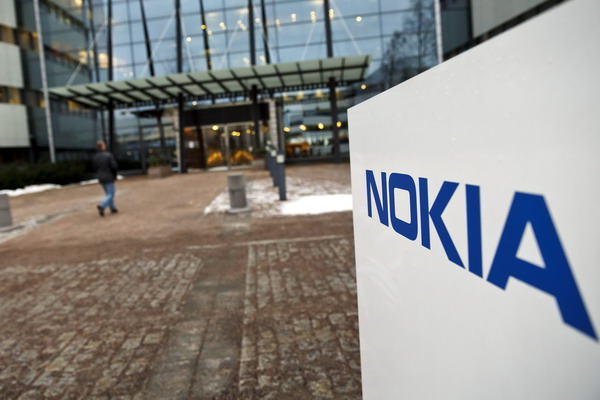 The Nokia company logo is pictured at its headquarters in Espoo January 29, 2015. [Photo/Agencies]
HELSINKI -- Finnish telecom equipment maker Nokia said on Monday it has controlled some 80 percent of its French counterpart Alcatel-Lucent's shares.
The Nokia and Alcatel-Lucent deal amounted to 15.6 billion euros($16.88 billion) and was the largest business purchase in Finnish industrial history. Following the takeover, Nokia is one of the three major network technological companies, the others being Ericsson and Huawei.
Nokia also announced on Monday that the French stock market authority (AMF, Autorite des Marches Financiers) had declared the Nokia exchange offer for Alcatel-Lucent securities in France and the United States as successful.
The Espoo based company said it will now move to combine Nokia and Alcatel-Lucent and execute integration plans.
Nokia President and CEO Rajeev Suri said the launch date for the "new Nokia" is slated for January 14, 2016.
He noted in a press release the new company will offer a combined end-to-end portfolio of the scope and scale that meets the needs of global customers. He described the research and development capabilities of the company "unparalleled".
In an interview with the Finnish business daily Kauppalehti on Monday, Nokia chairman Risto Siilasmaa recollected the company's come back "from the brink" -- first securing its survival through selling its ailing handset business to Microsoft and the purchase of the other half of its network operations from Siemens. Nokia was then able to take time to define its new position in a world where technology has a key role.
"We have now in three years increased the value of the company's business 15 fold. It is not quite easy to find another comparable achievement", Siilasmaa told Kauppalehti.
Analysts believe Nokia will be able to benefit from its corporate size in negotiating prices with customers.
The company is expected to retain its name Nokia, which originated from the name of a town in southern Finland, and its headquarters in Finland, albeit a large part of its operations are likely to be located in France.