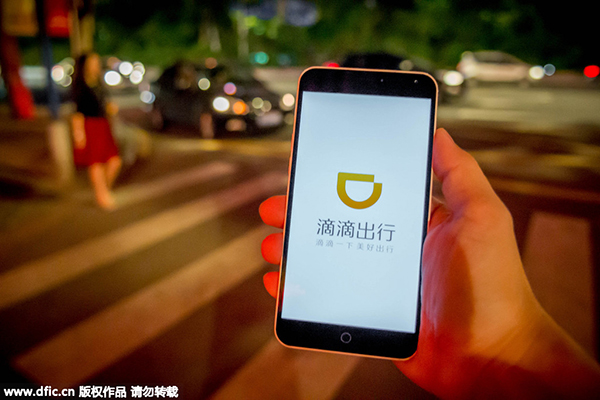 Didi Chuxing, a car-booking mobile app owned by Didi Kuaidi, is shown on a mobile phone, Sept 17, 2015. [Photo / IC] 
BEIJING - Chinese ride-hailing and sharing app Didi Kuaidi announced Friday that the company will expand its global rideshare agreement with Lyft, GrabTaxi and Ola to reach nearly 50 percent of the world's population.
Through the global partnership, the companies, which combined serve nearly all of China, the United States, Southeast Asia and India, will collaborate and use each other's technology, market knowledge and business resources to serve more international travelers, said Didi Kuaidi.
"The partnership with Lyft, GrabTaxi and Ola allows Chinese users unprecedented ease in international travel and helps each of us improve our own services, leveraging our collective technology and expertise. This is a win for the diversity and vitality of the global rideshare industry," said Cheng Wei, CEO of Didi Kuaidi.
Collectively, Didi Kuaidi, Lyft, GrabTaxi and Ola have raised more than $7 billion. Products under the partnership will start rolling out in the first quarter of 2016.
Didi Kuaidi is the world's largest one-stop mobile transportation platform, providing 7 million rides per day across 360 Chinese cities.