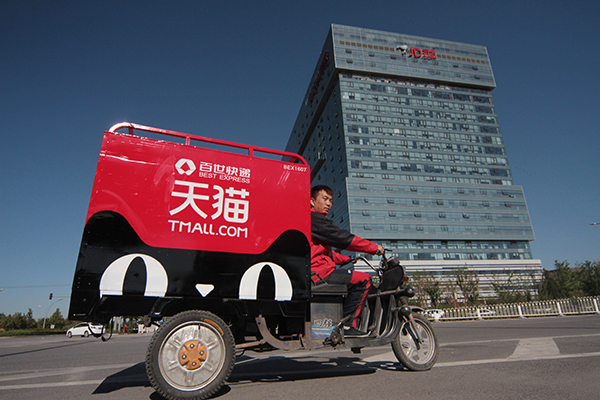 A delivery agent rides past the headquarters of e-commerce company JD.com Inc in Beijing. [Photo/China Daily]
In run-up to Nov 11, JD.com complains against Alibaba for 'disrupting order'
Major e-commerce player JD.com Inc has filed a complaint with the authorities claiming its rival Alibaba Group Holding Ltd has been "disrupting market order".
In a statement issued on Tuesday, the Beijing-based company complained to the State Administration for Industry and Commerce that Alibaba was asking retailers to "choose sides" during the upcoming Nov 11 Singles' Day shopping festival.
"Alibaba has delivered a message to online retailers that if they participate in its Tmall's promotional campaign on Nov 11, they will not be allowed to take part in any similar events held by rival platforms," JD said in a statement.
"If they have cooperated with rival platforms, they will be required to exit from Tmall and be punished in respect of flow and resources.
"Alibaba's behavior not only hinders normal market competition, but also severely undermines consumers' interests."
Alibaba responded that any "market problems should be resolved by the market".
"We will continue offering consumers quality products at lower prices," it said, adding it will let consumers make their own decisions.
Fang Ya, a spokeswoman for the preparation committee for Tmall's upcoming Singles' Day, said: "We will continue to expand our leading advantages in price, delivery speed and after-sales service, and exceed our own and consumers' expectations on product quality."
The State Administration of Industry and Commerce was not immediately available for comment.
The country's two biggest e-commerce platforms are currently locked in competition for more retailers, as the Nov 11 shopping day approaches, when millions of consumers are expected to flood shopping websites in search of bargains.
Online retailing has seen rapid growth this year.
Statistics from the National Bureau of Statistics showed that sales of consumer goods from January to September this year were worth 21.6 trillion yuan ($3.43 trillion), a 10.5 percent increase year-on-year. Online retail sales hit 2.6 trillion yuan, a 36.2 percent growth, accounting for 12 percent of total sales.
Industry analysts said that what is most important to the market right now is that e-commerce platforms remain open and competitive, and that such a shouting match did nothing but damage the image of the industry.