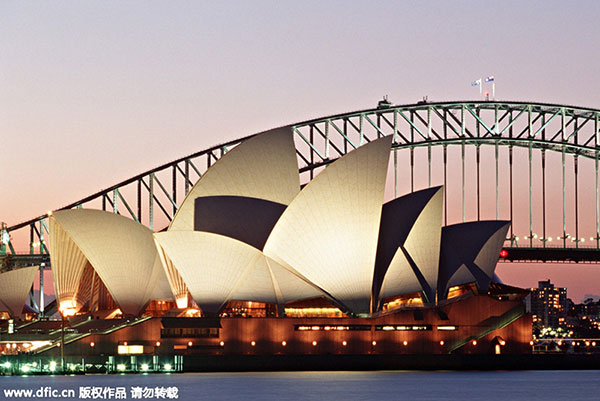 Sydney Opera House and Bridge at dusk, Nov 11, 2014. [Photo/IC]
Chinese demand for Australian property, which has helped propel the price of an average Sydney house to about A$1 million ($720,000), is waning as an economic slowdown at home dents confidence, according to Credit Suisse Group AG.
Falling auction clearance rates in Sydney and Melbourne, two of the most popular destinations for purchasers from China in Australia, suggest there are fewer cashed-up foreign buyers, Credit Suisse analysts Damien Boey and Hasan Tevfik said in a report on Tuesday. China's surprise currency depreciation in August has dimmed consumer confidence and appetite for overseas property worldwide, they said.
Home values in places such as Sydney, Vancouver and parts of the US have been surging as Chinese buyers seeking a safe haven for their cash circumvent controls at home to pile into properties abroad. In Sydney, home values jumped 44 percent in the three years to September, spurred by record-low interest rates and a stream of buyers from China who were estimated to be snapping up almost a quarter of the city's new homes.
"Chinese demand seems to have flattened out," the Credit Suisse analysts said, referring to the Australian market. "It is the cyclically poor condition of the Chinese middle-to-upper class which is driving the slowdown in property buying abroad."
In recent months, the proportion of home auctions in Sydney that successfully found a purchaser has plummeted to the mid-60 percent range from more than 90 percent earlier in the year as buyers balked at prices and the banking regulator clamped down on mortgage lending. Most homes in Sydney are sold at auctions.
The waning confidence among Chinese buyers could dim their appetite for global property by 30 percent in 2015, said Sydney-based Boey and Tevfik. That is based on the correlation of Chinese consumer confidence with growth in US all-cash home sales, they said.