"China has the most passionate gamers in the world and I couldn't be more impressed that when I did the stage demos. The lines of people waiting to experience the games were really cool," said Microsoft Xbox product manager Chris Bishop.
Bishop is taking part in his second ChinaJoy, or China Digital Entertainment Expo & Conference, the largest gaming and digital entertainment exhibition in the Chinese mainland. He brought Forza 6, the latest generation of a console game with a 10-year history, created by Turn 10, a subdivision game studio of Microsoft Studios to the expo.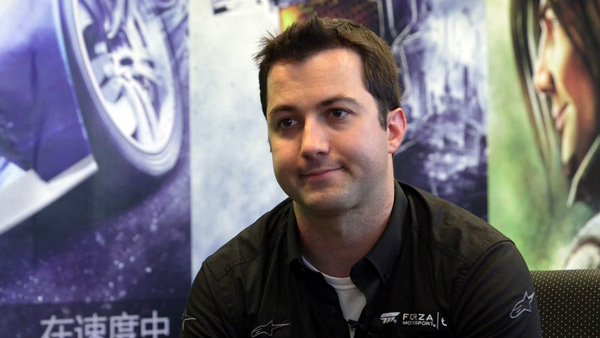 Chris Bishop, Microsoft Xbox product manager speaks to media during a interview of ChinaJoy 2015 held in Shanghai, August 1, 2015. [Photo provided to chinadaily.com.cn]
"After being banned for 30 years, imported console games are now legal for Chinese consumers, this is extremely exciting", said Bishop when speaking of the cultural differences between domestic gamers and their western counterparts.
With more than 450 cars to collect, customize and race in 26 world-famous environments, Forza 6 is the most comprehensive racing game of its generation, in 1080p resolution at 60 frames per second.
"The suspension and tires really are the two most important things to get designed correctly and uniquely if you want every car to feel different, unique and accurate," said Bishop. It takes more than six months for his team to work on designing the 450 cars.
Game features such as wet weather, 3D puddles and night racing are also shown in the game.
Bishop also highlighted one of the other features called Drivatar, a system built in the game for controlling opponents' cars.
The technology is a novel form of learning Artificial Intelligence developed for Forza Motorsport by the Applied Games group at Microsoft Research in Cambridge, UK.
Aimed at creating human-like computer opponents to race against, the Drivatar takes data from users' racing style and that of many others via the Xbox Cloud and brings it together to shape how users' opponents will drive during a race, making for a much richer, more realistic experience.
The original Forza Motorsport for Xbox was released on May 3, 2005, this year marks the 10th anniversary of the game.
Following up the debut of the original generation, Forza Motorsport 2 released in 2007, Forza Motorsport 3 launched in 2009, Forza Motorsport 4 shipped in 2011 and Forza Motorsport 5 went on sale in 2013.
The next game, Forza Motorsport 6, will be exclusively launched globally on September 15 for Xbox One, and comes with a Chinese language version.