"When I got off the plane at Shanghai airport I saw people showing the same level of enthusiasm and passion for video games as fans in the United States and Europe," said Frank O' Connor, development director for the Halo franchise at 343 Industries.
"Some of the Chinese fans are more dedicated than our fans in the US".
With 14 years'experience, Halo is a military science fiction first-person shooter video game originally created by Bungie and currently managed and developed by 343 Industries, a subsidiary of Microsoft Studios.
Halo: The Master Chief Collection, unveiled in October in the US, has finally secured approval from Chinese authorities and will be launched here by August 13.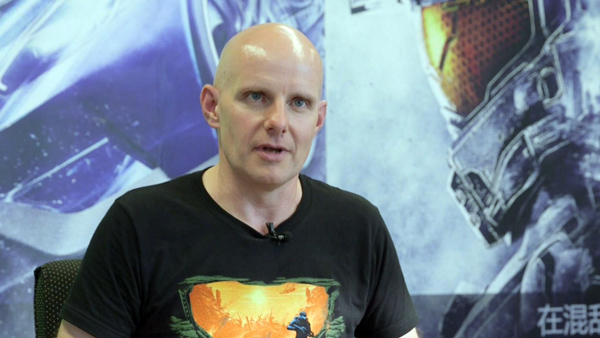 Frank O' Connor, development director for the Halo franchise at 343 Industries, speaks to media during the ChinaJoy 2015 held in Shanghai, August 1, 2015. [Photo provided to chinadaily.com.cn]
It includes all of the critically acclaimed adventures of the Master Chief, from the original Halo: Combat Evolved: Anniversary, to Halo 2: Anniversary and on to Halo 3 and Halo 4.
"Compared with the previous version that provided 30 frames per second, everything in the new game is run in 1080p/60fps … and because the games are collected together, it will probably be the longest experience you can have with Halo, and will take 40 to 50 hours if you play though all of the games back to back," said Connor.
According to Connor, the company has created a network with a local content delivery network provider, to make sure that Chinese gamers have an enjoyable experience connected through regional speedy broadband.
"We've lot of Halo fans and we've met some of them here in China," said Connor. He believes that by introducing the game series as a collection, brand awareness will be built among Chinese players.
According to the working committee of China's audiovisual, digital publishing and game publishing association, sales volume of China's gaming market in 2014 reached 114.48 billion yuan, up 37.7 percent year-on-year.
In the first half of this year, the number reached 60.51 billion yuan, up 21.9 percent year-on-year. Since last year, overseas sales volume reached 1.76 billion yuan, reflecting a rapid growth of 121.4 percent.
Here we present a Q&A interview with Connor, to talk about the Chinese strategy of the first-person shooting console game:
1. What are the differences between the US and China in console market? What are your localization strategies?
Western markets have been used to consoles for almost 40 years. If you think of Atari in the late 70s, it's been almost 40 years of the console being part of the gaming culture in the industry. In the US, the console is the center of all entertainment, such as streaming videos, music and so on.
It's definitely going to take a while for the Chinese market to either get used to that or adapt to it. As a company, we don't want to come in and dominate, we have to learn how to adapt our products to the Chinese market and we have to build a good relationship with Chinese players to realize how they want to play and what they want to play. For us, this is going to be an education, and we are trying not to achieve overnight success, and figure out what Chinese players want and how to provide services to them.
2. Will the "Halo: The Master Chief Collection" provide a Chinese language voice-over for domestic players?
There will no Mandarin voice-over and the game will be only shipped with Mandarin subtitles. We collected suggestions from Chinese players before we made the decision. Most were keen on playing the original game with an English voice-over and Chinese subtitles, while we'll give it further consideration if demand increases and maybe we'll bring Halo 5 in full localization to China.
3. When will Halo 5 debut in the market and will the Chinese mainland being one of the first launch countries?
I can't disclose a specific date. Given an approval process by the nation's government, which is a good system, we need some time to prepare for the launch. We've learnt a lot from the release of the "Halo: The Master Chief Collection", and we'll implement the experience to make sure that there'll be no delay for the upcoming series.
4. Will the "Halo: The Master Chief Collection" be migrated from console to PC?
We've not thought about this. However, the launch of Windows 10 makes it easier for game migration. We'll release more details with regard to our PC business strategy at the upcoming Game Development Conference Europe in Germany.
5. What are the differences between the US and China in gaming culture?
I've met some hard-core console enthusiasts in China who are importing consoles and games, those guys have the same reasons as US players that love the game.
The console is kind of new to China. I've been following Asian gaming since I've been working in the industry for nearly 20 years. Chinese players have a lot in common with their US counterparts. They both like cool stories, good characters. They want more Chinese characters in games.
Consoles are so new here, is you ask me this question in a year, I think I'll be able to give a much better answer.