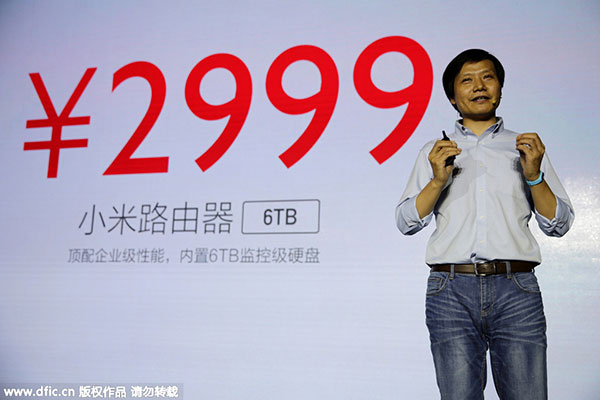 Lei Jun, chairman and CEO of Xiaomi Technology, delivers a speech at a launch event for Xiaomi's new digital products in Beijing, China, June 10 2015. [Photo/IC]
Xiaomi will invest more in online video content and provide more types of services, said Lei Jun, CEO and founder of the smartphone maker, on Wednesday in Beijing.
"Xiaomi itself is not a video website, so we can work together with all video websites to build a grand alliance", Lei stressed.
"We don't get involved in content creation, but after our $1 billion investment into the video industry, we present more content to our users", Lei added.
To strengthen Xiaomi's presence in the online video field, Chen Tong, former chief editor and executive vice-president of Sina Corp, was recruited by Xiaomi in November.
"Xiaomi saw great changes in video content", Lei said.
With the investment of $1 billion in the firm's video content development, Xiaomi built a video alliance of more than 100 members, including iQiyi, Youku Tudou and Zhejiang Huace Film & TV. The alliance accounts for over 85 percent of the market share.
"Chen Tong did a very good job in the first half of the year. We expect a even more dazzling year result", Lei said.
More types of video services, such as video news, live sports and concerts, will be launched through Xiaomi's video platform, according to Lei.
Xiaomi only focuses on three major businesses: smartphone, television and router.
The company Wednesday also unveiled two new Wi-Fi router models with a built-in hard drive, which can be used to make backups of pictures from cameras and download video content through remote control via apps.
The 6TB hard drive model, at the price of 2,999 yuan, is designed to store the user's lifetime data, Lei said. The 1TB hard drive model is priced at 699 yuan.